Sorry for not updating for a while – I didn't update because there wasn't much action for about a week, and thus I was holding out until we had some interesting stuff to say.
A lot of the work done recently was either trying to fix bugs (mostly due to the engine, which while is awesome, easy-to-use and has a lot of good functionality, sometimes the new updates that were supposed to fix old issues now make things worse) or adding little features. Terraformation is messed up for now as is this unexplainable bug where you sometimes turn into a pile of eggs. At least the time/resting mechanic now works.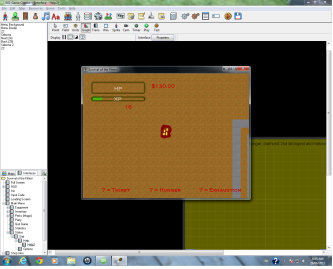 Some examples of the little features include the ability to do stealth attacks, the new level-up mechanic with more perks, the ability to negotiate with bandits and try and bribe them to stay away, a lot more sound effects (ambient, like waves or volcano rumbling) and items (including a tent to protect you while resting), a weapon condition/breaking system and little details like loading screens now giving facts about the prehistoric times the game is set (I want you to learn!). Whew.
The one big feature I added after some contemplation is permadeath. That is, if you die your save file is deleted. I think it adds some weight to your choices and I think that is a good thing. So watch your back when the game comes out!
In the coming weeks I will continue with all the little work, slowly building up to the release which probably is a few months away at least. It will be done when it is done. Till then, thanks for reading and showing an interest!