Programmin' Blues & Big News
Originating in the RPGMaker VXAce engine, Arcadian Atlas hit a wall.

We started with VXAce because it was an easy way for two siblings with no programming knowledge to make a tactics RPG passion project together. After all, there was already a battle system & isometric map engine in place from the community that was free to use.
It just made sense, right?
But, the more we worked on the game... the more we ran into roadblocks.

The gameplay elements we were after, the isometric maps with traversable elevations and strategic tactical mechanics we had always planned for, they just... weren't possible with that engine. We were trying to make do with workarounds & find ways to cut corners just to "kind of" get mechanics working.

We weren't going to be able to make the game we wanted to make. And even worse, we were going to disappoint the small community of folks who've shown interest in Arcadian Atlas with a hollow attempt at the game we initially set out to make.

We don't want to be just another let down of a tactics game. We need to make this game & make it right - because if we don't make it, who will?
We needed a new engine. Something simple enough for 2 non-programmers to build the majority of the game themselves, but customizable enough for a programmer to hop aboard & handle all the tactical game mechanics.

Late in October, RPGMaker MV was released. Supporting Javascript & HTML5 with no hidden classes, we could feasibly build all those custom elements as Javascript plugins & release Arcadian Atlas on 3 major platforms - PC, Mac & iOS.

We felt that with our skillset & plans for Arcadian Atlas, MV was the right engine for us. The move to RPGMaker MV has been a painless one, and with the acquisition of a programmer, we are happy to say progress on the game has sped up exponentially as we move onto the real meat of our project.

Our programmer is currently plugging away at custom mechanics that will take Arcadian Atlas's gameplay to the next level.

Just a taste of some of the exciting new elements we will be adding in the next couple months...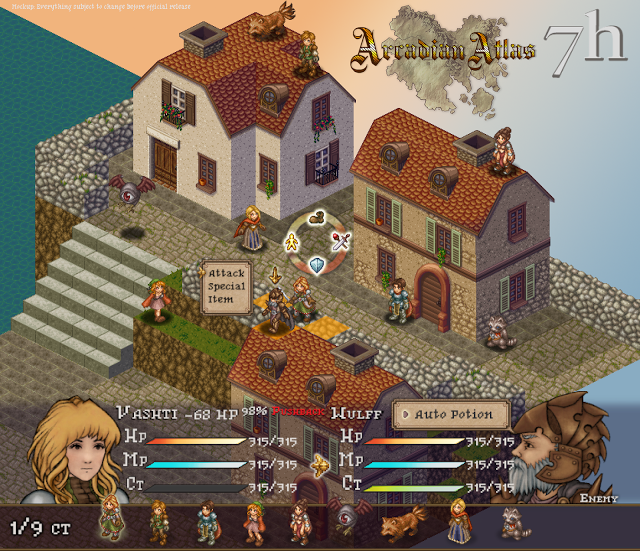 Mockup map made in TileD - final product will look & function slightly different
Fully custom isometric map engine that allows us to build highly detailed & fully interactive nooks, slopes, plant life, river rapids, deadly cliffs, etc.

Custom grid-based SRPG battle engine will be an unforgiving strategy-oriented love letter to the tactics RPG genre

Custom Menu & GUI system with CT (clock time) system, party roster, AP (ability points) learned 1st & 2nd abilities & ability to change job classes
This & tons more is coming up in the next few months. Stay tuned here for more updates. To be notified via email when the trailer or Kickstarter goes live, subscribe to the mailing list!