In HALT, there are several ammo types that go along with your pistol, but throughout the game, you can pick up power-ups that upgrade your pistol to certain ammo types.
Before we get into the power-ups though, let's talk about your default ammo type, and the heavy ammo type.

Your regular (default) ammo type fires shots that deliver -1 damage to each enemy. However, there are infinite amount of shots, meaning you can use it at any time, even though it's probably more challenging.
Now say hello to the heavy ammo type. The bullets are much bigger than those of regular shots, and become a bit smaller a few seconds after they're fired.

If a heavy bullet hits an enemy within the first few milliseconds it's shot, it will do -3 damage. After it's gotten smaller, it does -2 damage. However, although stronger, heavy bullets are short-lived. They have friction, and therefore their speed decreases while it continues to exist.
These bullets also bounce on walls and floors a couple times.
Now let's get to the power-ups! These can be picked up whenever they are seen in a level, or can be bought in the weapon shop.

The machine gun is a power-up of your regular ammo type. Once picked up, it replaces your regular pistol with a yellow machine gun, which allows you to spam bullets at your enemies.

---

The shotgun is a power-up of your heavy ammo type. Once picked up, it replaces your heavy pistol with a shotgun that fires 4 heavy bullets for every shot.
NOTE: When you pick up a power-up, it also instantly equips you with it, even if you might not have the gun's parent equipped.

This makes the shotgun a superbly powerful weapon, as it does more damage and shoots in a larger quantity.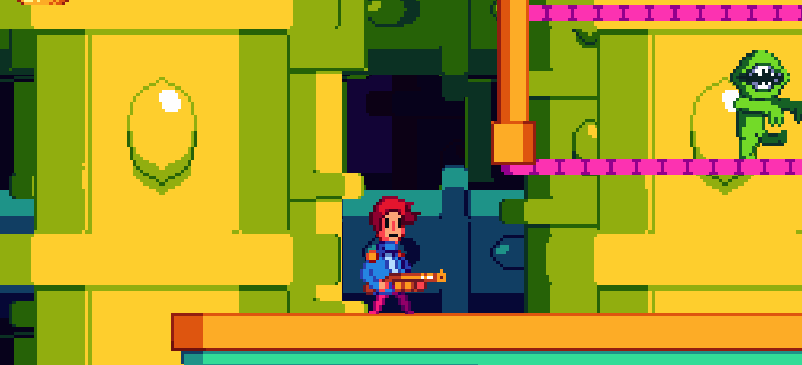 Since heavy bullets bounce a few times after they're shot, the shotgun allows for ricochet mayhem.
That's all for today!! Stay tuned to see more devlog action!