Portal Mortal - 0.0.1.2
So, new build and new stuff. Not that much modifications or brand new addons, but some things are now working better than they used to.
Unfortunately
, this build is windows-only. If I have enough sparetime (which I don't), i'll try to compile (working) linux-version as well.
Download

Change log:
-Better particle classification.
-Ice more slippery!
-Small air control changes while going through portals. Still needs some modification.
-Player & Portal fixes.
-Player's character will follow mouse with its eyes.
-Decide whether power sources are on or off at the beginning.
-You can now "paint" blocks. (Shift + left mouse).
-Portal colors and mouse graphics changed.
-Player animations.
-Hallucination & clarify blocks.
-Vanisher block.
-Sign is working better, but still needs some fixes.
-Laser calculation changed to be lighter.
-Some code cleaning.
-See the value of blocks just by hoovering your mouse over them.
-Options-menu added. Key binding still needs some changes.
-One new level added.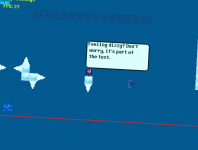 Known issues:
-Portals will sometimes stuck inside the ground, followed by painful death.