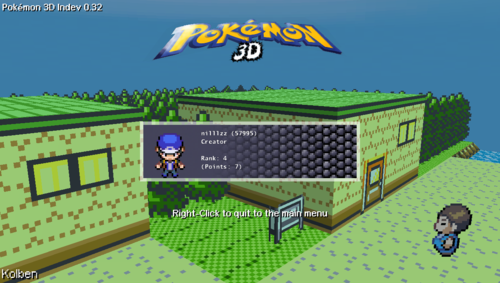 Pokémon3D is finally back with version 0.32. It contains awesome new features in almost all parts of the game.
New features:
Online/GameJolt:
Sessions: Go to GameJolt.com to see how long you've played Pokémon3D and if your GameJolt friends played it.
Online save state (detailed explanation: here): Play online, skill your char and earn emblems to customize your trainer card.
This is a cloud save, when you log in to your gamejolt account, you find it right there, on every computer
Improved a few processes to make them faster.
Added emblems and ranks.
Enhanced the profile view in the GTS.
Achievement + GameJolt synchronization
Offline/Gameplay:
Ditto can breed now, also removed few issues from breeding.
Fixed many crashes and bugs
Implemented complete new script engine
Route 42 and Route 43
Mahogany Town + Gym
Mt. Mortar
Waterfall
Fixed trainers on Route 41
Rocketbase in Mahogany Town
Lake of Rage + Gyarados event
New main menu button
New trainercard layout + function
Seasons
Alph puzzle completed
Darkcave completed
Union Cave completed
Lapras event.
There's probably a lot more but these are the main feature that got added in this version.
Also, to see the achievements you gained in Pokémon3D, go to the GameJolt page of Pokémon3D and look under "Trophies".
Also, to receive the new update, you have to update your launcher. Do that by opening your launcher, clicking "Settings", the "Launcher"-tab and then "Update launcher".
Have fun with this update ;)
// The Pokémon3D team