Thanks for testing and the many bug reports. We squashed as many as we could.
Changelog
Engine
Made buildings being captured flash the colour of the captor's owner.
Fixed a rare crash in the color picker.
Simplified the logic around cloak crates.
Introduced per-player cloak detection.
Fixed units chasing cloaked units around the map.
Fixed observer stats displaying the wrong production icons.
Fixed division through zero in moveFractionTotal.
Don't display GPS dots for dead actors which crashes the game.

Remove hardcoded alpha-blend from Cg shaders.

Renovated the Diplomacy panel (shows teams and got scrollbars):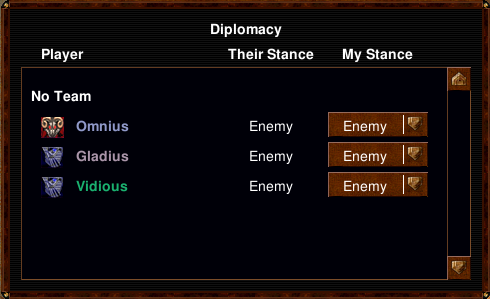 Red Alert
Fixed the map Bomber John.
Fixed sonar pulse and parachute bombs icons crashing the game.
Command & Conquer
Added the missile launch woosh sound effect.
Fixed "Nuke Launched" EVA announcement
Set up "Enemy Planes Approaching" and "Nuke Detected" EVA announcements
Fixed C17 icon crashing the game.
Dune 2000
Fixed building placement square overlay offsets.
Fixed unbuildable Atreides units in the Dune 2000 tech tree
Added the original muzzle flashes. Thanks to reaperrr!
Fixed AI not teching up properly
Fixed selection boxes for silo and starport.
Tiberian Sun
Still unreleased. Thanks to reaperrr again:
Added support for nearly all explosions so we don't crash when something gets destroyed.
Enabled mammoth tank voxel barrel.
Added rotor to Harpy that was missing in the original due to engine limitations.
Added two bonus soundtracks: Stomp and Initiate.
Fixed the attack cursor.