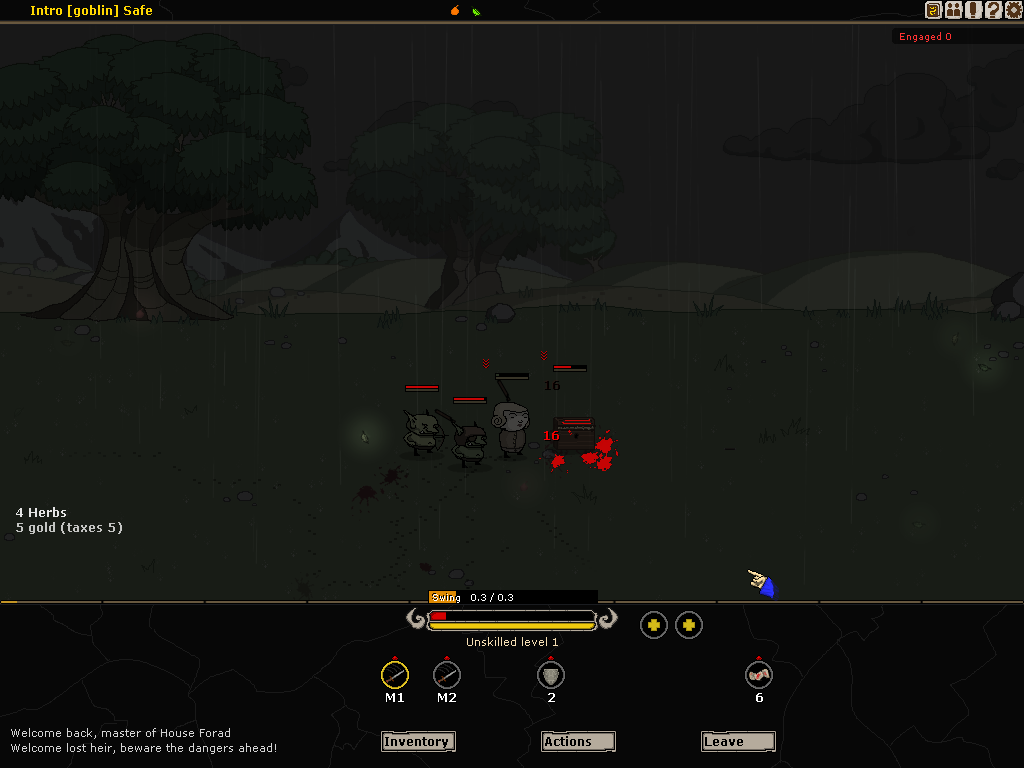 New low health effects will keep you on your toes.
Patch 1.1.3 A Grab For Glory
I've been working mostly on visual effects and balance for this patch, the new character system requires quite a few tweaks. I have been focusing on low life effects and blood in particular, I did not feel that the player was given a strong enough cue when their health started dropping so I added a heart beat sound and wrote a new shader for when health starts going low. This should make it a lot easier to identify when to run and a lot more engaging.
Some of the stronger HoTs where still stacking at a very high rate and have been nerfed slightly to prevent unkillable monsters - this does not affect monsters with stacking damage resists, so beware the roaming Earth Walker.
I also wanted to implement stronger ties between champions and their gear and the first step has been to implement magic weapon effects, in this patch I chose to implement Lightning, Poison and Fire weapons but I aim to make at least three more groups in the near future. Magic weapons are very rare at the moment but I will be implementing a weapon upgrade system soon.
The interface now allows players to compare weapons based on stats, this is a break from the old systems where all values where invisible but the change was made to allow a more engaging upgrade process. This may call for tweaks and balances to weapons in the future.
Its been just over two years since this project started and I can now proudly announce that its going Desura, I want to thank all my players for their assistance during early and beta development and I hope that you will find it in you to purchase yourself a copy when the game goes live in a couple of days.
Featurelist:
Many heals have had their cast time reduced and are no longer interrupted by damage.
Staff has had its physical damage reduction increased.
New blood effects.
Heal effects no longer affected by Violence level.
Balance tweaks.
Private servers enabled.
Effect updates.
Reduced server traffic.
Magic weapon effects (Lightning, Poison, Fire).
Login Screen input bug fix
Shields now block again.
Game launcher reworked.
Desura Launch
This weeks class pick is:
The Cleric Of Dwade
Clerics of Dwade are worshipers of the Shadow, a place of negative energy and death. They are often feared for their bleak demeanor but are the most widely represented clergy of the five. They mostly serve as undertakers and it is their sacred duty to keep the dead from getting restless.

Burial - Cleric Of Dwade subclass
These clerics specialize in hunting down the undead and putting them to rest, they often follow armies to provide burial rites for the fallen, enemy and ally alike, for only fools doesn't fear the restless. Their primary domains are damage and debuffing.

Spirit - Cleric Of Dwade subclass
Considered by many to be heretical, none can deny their power - the Spirit Callers of Dwade conjures souls from beyond the veil to assist their cause, they call upon the dead to curse their foes and protect their allies.Their primary domains are DoTs and Healing.
May Dwade pass you by.