Main mechanics
Scenario: The game consists in some missions, and every mission is developed inside of a different building, which is being reduced to ashes. Every scenario contains multiple rooms, which will be hide from your sight, which means that you wont be able to see anything until you go inside. This will bring to players more excitement and will improve that colaboration between them.

Also, the rooms will be full of furniture that will help the fire to spreads quickly. Although everything is made of paper, the propagation wont be the same, we all know that steelpaper
burn less that woodpaper.

Firefighters: Avatars of the game, controlled by players. In the game, the only difference between them will be their physical appearence and their personality (skins), and the tool that they have choosen at the beginning of a level.

Fire: The fire will be spreading across the entire scenario. It will have an AI which allows it to advance randomly or to surround the firefighters, block their way or to burn some explosive items. If a firefighter touches a fire, he/she will start to burn and will be blocked until a partner rescue him (which means turn the fire off by throwing some water). If this doesn't happen until a certain time passes, the firefighter will die.

Tools: The fire hose will be the firefighter's main weapon. Can spread water in 360º to extinguish fire or to save your friends. If a firefighter is wet, he wont be able to use their tools or to move at normal speed until they dry out.
Also, there are other selectable tools as axes, water swords, sledgehammers, sprinklers, which will help players into their mission and let them to have different roles in every mission.
Game view: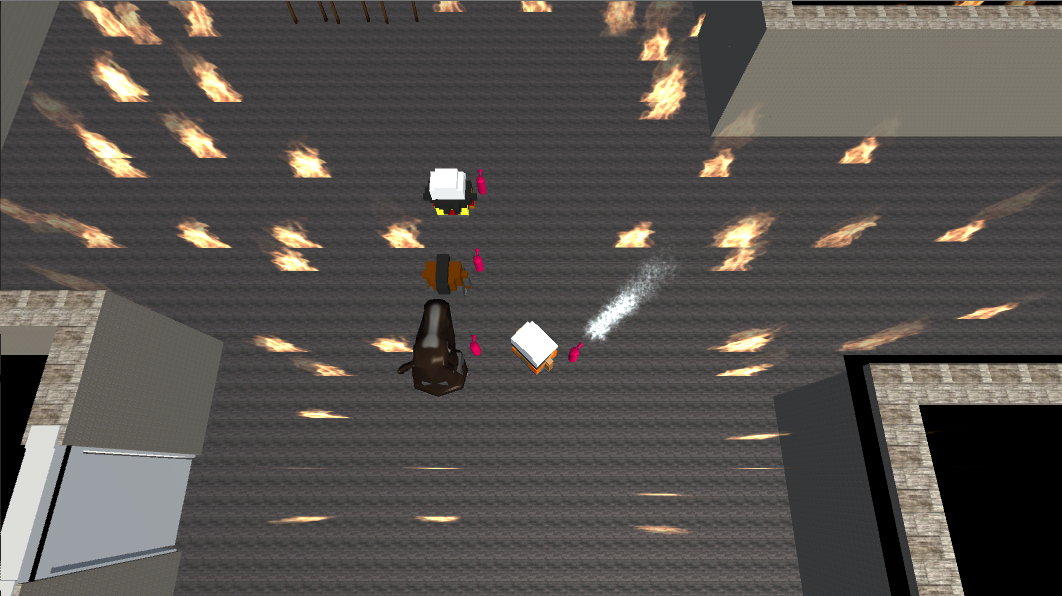 Art references
We aim to have a cartoonish game, where the most important thing is that players can have the sensation that everything is paper made. Because of that our graphic references are Paper Mario, Lumino City and Tearaway.
Music
For music, we want it to give players a emergency sensation, but without being stressful. Also, we want it to be a comical game, so music must be funny and quite frenetic. Some of our music references are the following:
The stanley parable: Youtube.com
Conker's Bad Fur Day: Youtube.com
Little Lily Swing (Tri-Tachyon): Youtube.com
Prototype