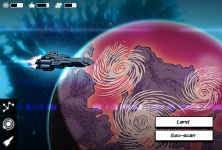 Eurogamer and Rock, Paper, Shotgun will host on the next 22th & 23th of June, on Rezzed '13, the premiere of 'Out There', an indie game crafted by the french indie studio Mi-Clos. The Leftfield Collection is dedicated to the 'most exciting indie games' and gathered praised games such as Proteus or Gateways.
This year, only 4 mobile / tablets games have been selected, including 'Out There'.
'Out There' is a narrative-driven management & space exploration game running on tablet and PC supports. 'Out There' aims to create a unique, melancholic and contemplative mood around the theme of space exploration. It is developed by Mi-Clos Studio, creator of Space Disorder, and FibreTigre, interactive fiction writer.
We also launched the official website :
Outtheregame.com
Stay tuned for exclusive content !