The name
"Squary" is how we call (for now) this squary green guy.
It has been known as Cube Boy (just like nothing to do with that fleshy one). Have an idea for a better name? send to cubisland@gmail.com or just comment below!
The look
Here we have a very very very rough sketch made directly on Flash: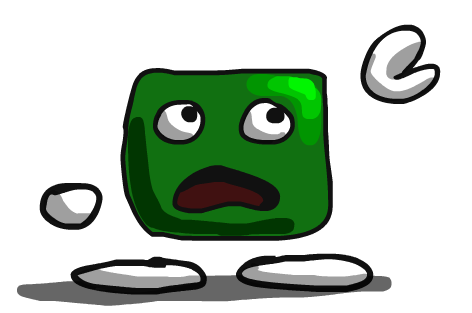 This "autist" face meant to show effort and fear (and maybe pain). It's related with the situation and the character itself (it will make sense in the game's story [I hope...]).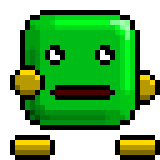 The first game version
It has 32×32 pixels (like everything else in the game) buuut because of performance issues, we had to change…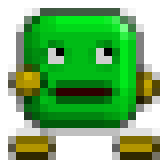 And became this (20×20 pixels)
(This is just how I see the world without my glasses!)
Probably this version gonna be in the demo version for a long time due to issues of… time. Due to this blur situation I decided to draw this way: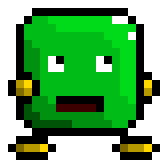 But you ain't gonna see it like this 'cause I'm lazy to do all the animation (for now).
Some criticism I've received about his look:
"He looks like a Dollynho" [Brazilian joke: Youtu.be]
"He's too generic, there's something missing…"
So I've tryed some variations (tripping a bit, I confess).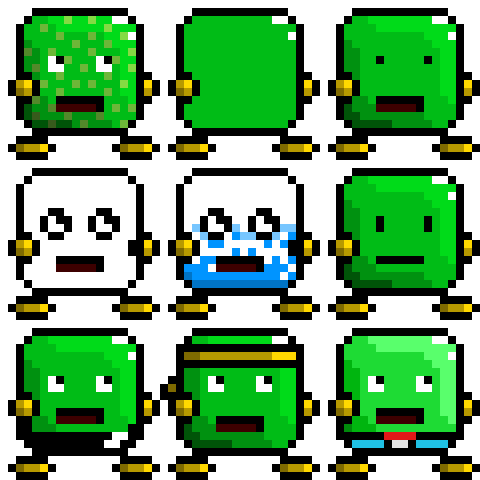 So I've asked myself: Johnny, some of these fits in the story? What I am trying to say with the character? And then, came these:

The sec is my fav one.
The third is fuckyeahsome, but so fackyeahsome that I'll probably use it on onther part of the game. Well, I've posted waiting for criticism and suggestions! If you want to do my job draw something and send to me, it would be very nice!
With love,
Johnny