ORION: INSTINCTS ANNOUNCED!
We are so excited to announce this game, even more-so considering it was the game you guys voted for / demanded the most! It is called 'ORION: Instincts' and it is absolutely amazing.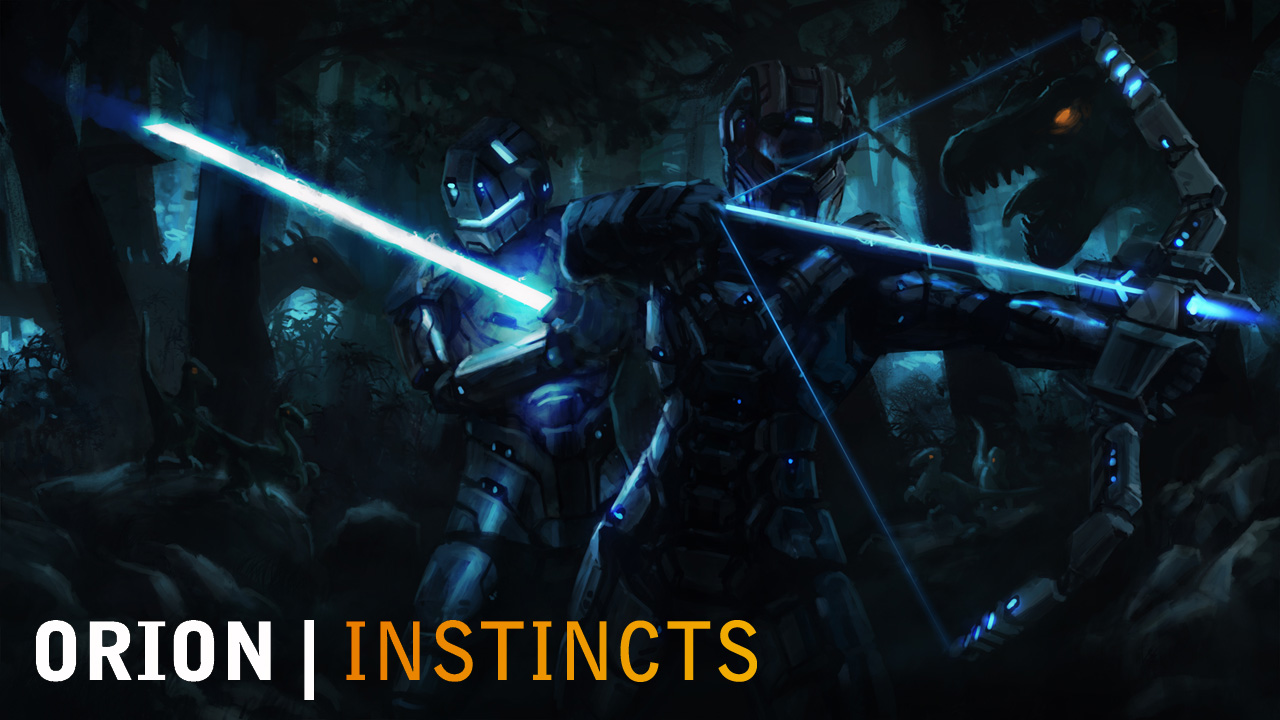 High-Definition
(1080p)
'ORION: Instincts' is an open-world, episodic adventure having players either work in the shadows as a Lone Wolf or team up for 2-Player cooperative gameplay to travel, survive and fight across the galaxy inside a variety of worlds and planets while they tackle a wide variety of unique mission objectives while surviving devastating Dinosaur types and discovering the secrets of ORION.
'ORION: Instincts' will feature some of the most detailed and varied environments we will have attempted to date. Not only will we showcase new themes and settings but we will also be introducing real-time Day / Night cycles and Weather systems which will add to the ambiance and immersion of each world.
'ORION: Instincts' will feature two main characters including the already-established 'Recon' class as well as the newly introduced and more-than-capable 'Tech' class. Each class will have their own unique play style and feature unique traits and personalities.
'ORION: Instincts' is being developed on a custom version of Unreal Engine 3 and is currently targeting release on both Steam and Playstation 4.
KEY FEATURES
Episodic.
Single-Player (Lone Wolf).
2-Player Cooperative (Recon / Tech).
Open World / Planets.
Adventure, Platforming & Puzzles.
Loot & Lore.
Dynamic Weather.
Real-Time Day / Night Cycles.
@ KICKSTARTERS
As we mentioned in our recent post, our KickStarters are now treated as Spiral Founders. Any game we EVER make you guys and girls will receive for FREE!
WHAT ABOUT 'ORION: PRELUDE'?
As some of you may know, we have many games currently in development. Four to be exact. It is no mystery that one of these is 'ORION: Prelude'.
This is an absolutely massive game and from a budget standpoint it is exponentially larger than anything we have in production and something we are working effortlessly towards. It has been in development for quite some time and is using the latest and greatest technology.
There is a lot on the table for 'ORION: Prelude' and we WILL deliver - but only when it's ready to be seen. Incredible new features have been added while in the shadows and we cannot wait to show you more of what's in our upcoming pipeline as we move forward.
TARGETED RELEASE DATES
The first episode of 'ORION: Instincts' is expected to be ready some time in Q1 2014. We cannot wait to show you more and the first trailer is expected to arrive after we release the massive Arctic Update for 'ORION: Dino Horde' this December.
DINO HORDE | POST RELEASE SUPPORT EXTENDED!
Happy news! We can confirm that we are extending the post-release support for 'ORION: Dino Horde' by an additional 6 months taking us to May 2014 - AKA 2 years of post-release support for 'ORION: Dino Horde'.
OUR ORIGINAL PROMISE
We originally committed to three major (free) DLC packs, including:
Jungle Update (July 2013)
Desert Update (August 2013)
Arctic Update (December 2013)
A GLIMPSE AT THE FUTURE
As some of you may have guessed we have already started delivering more than originally mentioned with the recently released (and ever mysterious) Jurassic Update and to some, more importantly, Spiral Spooktacular 2013 which introduced the very first Spiral Event.
SPIRAL EVENTS!
That is what we are here to talk about today - Spiral Events. The new era of 'ORION: Dino Horde' is about to begin and it's no longer DLC or Updates but rather Spiral Events.
WHAT ARE SPIRAL EVENTS?
These are going to be incredible, zany, over-the-top experiences that offer completely new play styles, environment-types and even graphics in some cases.
WHY THEY ARE INCREDIBLE
You guys have been so great about Spiral Spooktacular and all of our updates and we had so much fun putting it together. We have a blast every time we get to announce something or see you guys react to new content and we want to do this with every title we ever put out.
Spiral Events are incredible for so many reasons:
1 - We have fun
They allow us to make and work with fun, crazy content.
2 - We can support more people that love what they do
Much of this content is scouted from 3rd party game creation websites that allow us to support other independent contractors or freelancers that we normally wouldn't be able to and spread the love around even more and help others accomplish what they want to do in life.
3 - It rewards you guys.
We had a rough start, to say the least. We stuck thrugh it and you guys have been great with kindness, posting bugs to help us make the products even better and posting funny screenshots and videos that make us laugh.
TOON-TOWN TAKEOVER
Today we are announcing Spiral Event 002 - ToonTown Takeover.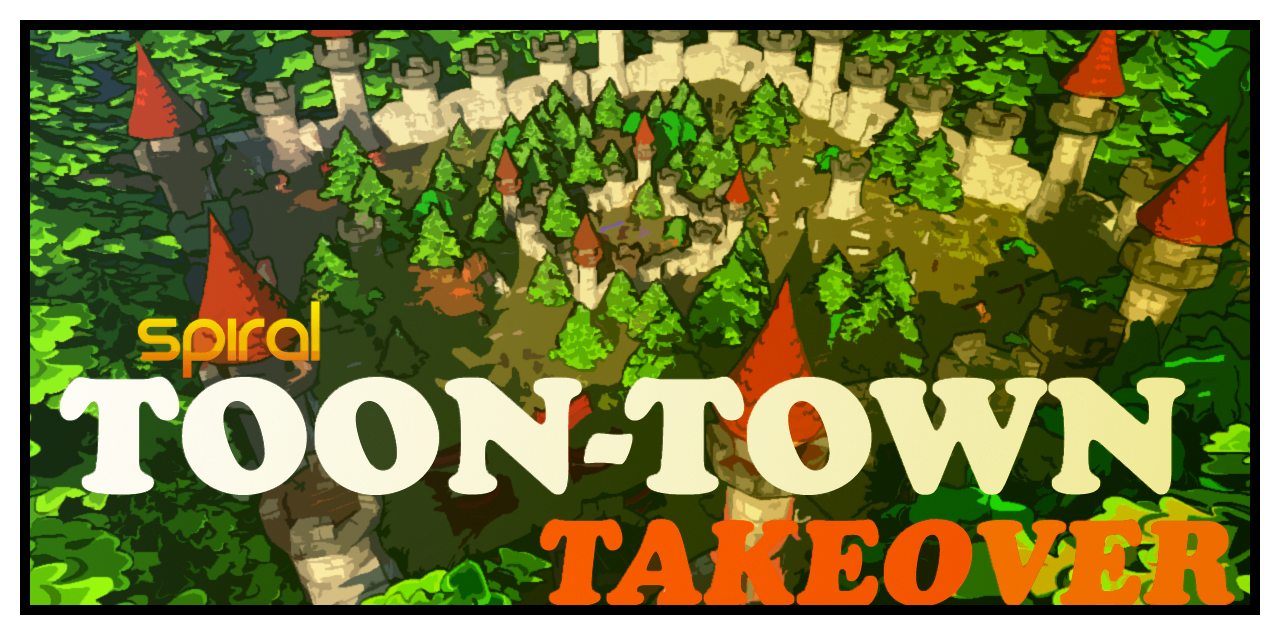 This event will take place from November 2013 - February 2014 and we will be releasing 2 new maps every month during this period, each with a cartoon-theme or style covering a wide variety of game mode types including Rampage, Duel, PvP and Slaughter.
Here is a preview at some of the work-in-progress content:

The ToonTown Takeover (Spiral Event 002) will occur this month. It will be the largest of the bunch (4 maps instead of two) as we have updated Elm Street as well as made a Day variant of it. We will also be introducing toon-themed versions of Depth-Night and Depth-Day.
Happy fragging!
Love,
Spiral