PRODUCT DESCRIPTION
'ORION: Dino Horde' is an indie Sci-Fi shooter (FPS/TPS) that seamlessly blends together incredible visuals and addictive combat. It puts you and your friends together into intense, cinematic battles using some of the most incredible weaponry and amazing vehicles in which you must work or compete against one another to accomplish mission objectives, explore giant worlds and survive the devastating Dinosaur Horde.In addition to the return of the adventurous and survival-based cooperative gameplay, 'ORION: Dino Horde' features intense, retro-inspired and over-the-top PvP competitive action via 'The Arena' which will be launching with four unique game modes.Can you survive the Dinosaur Horde?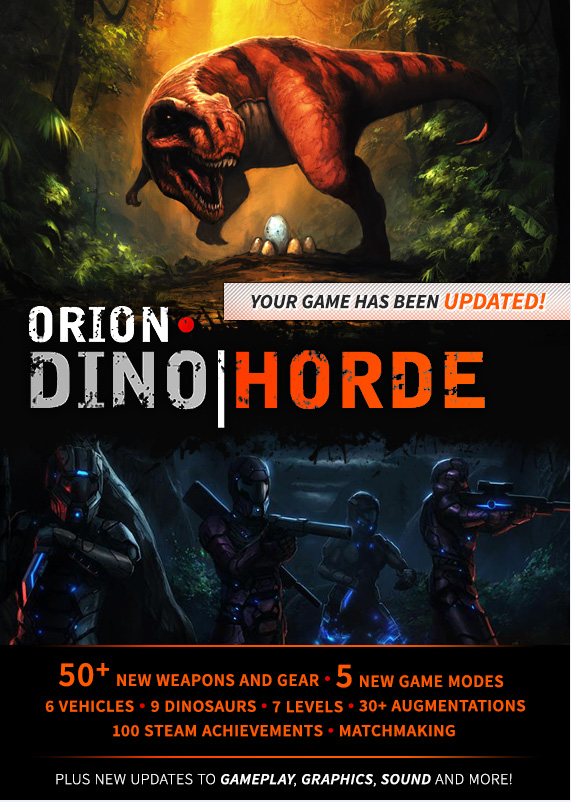 KEY FEATURES
Cooperative & Competitive Gameplay
50+ Weapons & Gear
30+ Augmentations (Upgrades)
9 Dinosaurs
7 Worlds
6 Vehicles
5 Game Modes
Lobbies, Matchmaking, Quickmatch.
100 Steam Achievements
Spiral Store (Hats, Taunts, Armor Packs)
NEED REVIEW COPIES?
Do you own or work for a gaming press website and need review copies of 'ORION: Dino Horde'? Simply send an email toreview@spiralgamestudios.com and let us know who you work for and how many keys are needed.
OWN A YOUTUBE / TWITCH.TV?
Do you run a gaming-based YouTube channel or Twitch.tv account? Let us know and we can get you hooked up with some press copies of the game. Send an email to press@spiralgamestudios.com with a listing of who you represent.
WHAT'S AHEAD
This is only the beginning. While this first week will be more crazy than usual with us monitoring everything and obtaining as much feedback as possible we plan to captivate your hearts and rock your brains all through out summer. We have tons of competitions planned, events, prizes and of course updates to the game!
There are going to be two main types of updates to the game:
Spiral Updates
Title Updates (DLC)
Spiral Updates are estimated to occur every two weeks and will be adding newSpiral Store items as well as Map Variants to the game.
Title Updates are estimated to occur every month starting on June 1st, 2013 (subject to change) which will be the debut of Title Update 001 - Jungle Pack.
Each Title Update will be absolutely massive and more importantly will be FREEto all owners of the game. Title Updates will include:
New Dinosaur
New Weapon
New Game Mode
New Levels
New Kit
New Game Mechanics
New Achievements
CLOSING NOTES
We are extremely excited and cannot wait to hear what you think about the game… as long as it's praise and you absolutely loving it. See you on the dinosaur fragging fields!
»BUY 'ORION: DINO HORDE' ON STEAM - $14.99 USD
»VISIT THE SPIRAL COMMUNITY
CONNECT: