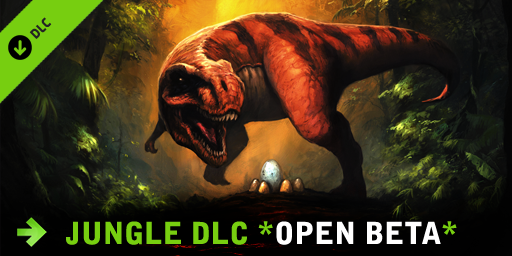 HOW TO ENTER:
Step 1: Open

Steam Library.
Step 2:

Right-Click '

ORION: Dino Horde

', Select '

Properties

'.

Step 3:

Select '

Beta

' Tab, Select '

JungleBeta

'.
MASSIVE FIRST-LOOK
This is a work-in-progress preview at ALL of the upcoming content in this massive (and free) content pack, including:
Persistence. 30 levels for each class at launch.
New (Playable) Dinosaur: Deinosuchus.
New Mode: Slaughter (Cooperative).
New Mode: Gun Game (Competitive).
New Competitive Maps: Haven, Haven-Day
New Cooperative Map: Strike
New Weapon: TREK Longbow.
New Items: Arrow Types (Piercing, Frag, Smoke, Stun)
New Kit: Revival Kit.
New User Interface
Stats & Leaderboards
Spiral Store 2.0
Game Version 1.07 (massive changes)
Remastered Map Pack (Raupi, Arid, Peak, Depth, Eden)
Spiral Update 003 Map Pack (Arid-Night, Eden-Night)
DEDICATED SERVERS - COMING SOON
We are not launching this beta with any dedicated servers as we want to do a few tests and gather as much early feedback as possible so we can put out any (if needed) immediate patches and hot fixes. Once everything is assured and confirmed to be running smoothly we will update the Dedicated Servers and make them available by no later than this weekend. For now we recommend that you host your own Lobbies or Servers.
WHAT IS IS STILL COMING
What will not be present during beta but available at Launch include things such as the Steam Trading Cards and New Achievements.
FRIENDLY REMINDER (STATS RESET)
This is a friendly reminder to all of those who participate in this Open Beta even for 'ORION: Dino Horde - Jungle DLC'. Everything that you accumulate leading up to July 24 (public launch) will be reset and lost. This is a testing period only.
FEEDBACK & BUG REPORTS
Please keep all feedback and bug reports to these appropriate Steam Community Hub threads:
OFFICIAL LAUNCH & RELEASE DATE
The Jungle DLC for 'ORION: Dino Horde' will be released on Steam on Wednesday, July 24, 2013.