We are proud to announce the first sale of 'ORION: Dino Horde' (25% off!) and Free-2-Play Weekend starting THIS weekend: May 31, June 1, June 2.
We could not think of a better way to let the players themselves decide and try the game out and experience the badassery that is taking on Dinosaurs with Gatling Guns and Jetpacks. Grab some friends, grab some food, grab some drinks and get ready to enjoy some incredible cooperative and competitive gameplay with 'ORION: Dino Horde'.
VERSION 1.6 - NOW AVAILABLE
We have unleashed Version 1.6 of 'ORION: Dino Horde' in time for this weekend extravaganza.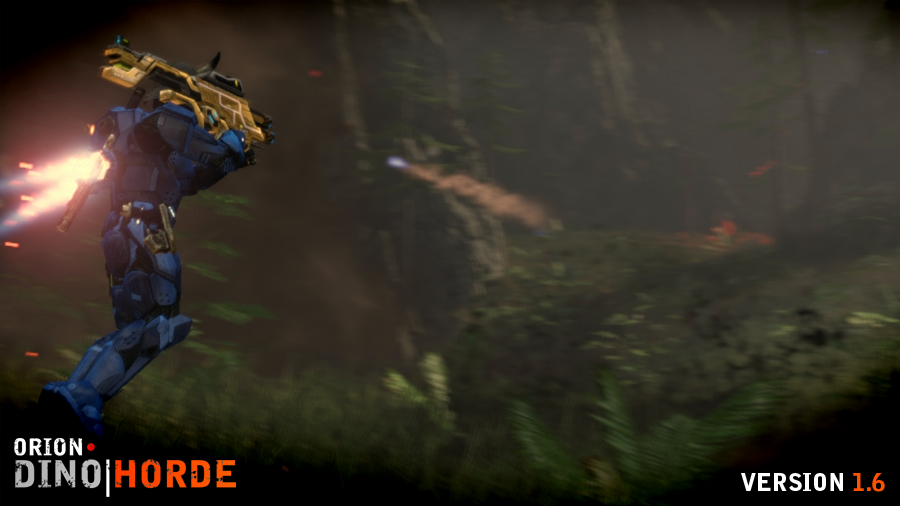 Your Steam client will automatically obtain it and the Spiral Servers are all updated and ready for your good graces.

VERSION 1.6 CHANGELOG
01 - Fixed T-99 Dual Pistols only firing from the left gun.
02 - Fixed reload timer not getting updated with the reload speed perk.
03 - Fixed FOV Transitions affecting zoom on weapons.
04 - Fixed Video Options to turn Environment Particles ON / OFF to be instant.
05 - Added text for when a player is dead and waiting to be spawned.
06 - Changed starting spectator views to not be locked inside buildings.
07 - Fixed issue with the Dilophosaur that would cause rapid-fire spitting.
08 - Fixed issue with map voting not resetting some game state variables.
09 - Fixed rare issue with the Gatling Gun that would result in it no longer firing.
10 - Fixed Citrus armor color not displaying properly.
'Buy ORION: Dino Horde' on Steam.