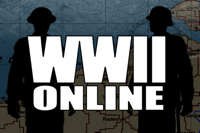 Operation Rapid Strike Event and AWARD Announcement
Our 19th anniversary event "Operation Rapid Strike" was a huge success! American and British forces landed in occupied France on D-day but in 1943. A 4 hour air, land and sea battle ensued as the Allies pushed the Axis forces back to the east. To see the top winners of the event read below....
---
Operation Rapid Strike showcased the best of our game in a 4 hour special D-day event of intense battles. It was really crazy! We froze the live campaign and held this op on our training server. In this 1943 scenario both sides started the event without heavy armor. We were simulating a starting point where an early American landing would mean the Allied supply lines would not be as strong as they were by 1944. The Axis in 1943 were fully committed the war on the eastern front and the closest heavy armor divisions for both sides were more than two hours away. So most of the fighting in this event was done without heavy armor on both sides.
The Axis forces struck first with a capture of Gravelines and the Allies quickly followed with captures of Escoeuilles, Varengeville-Sur-Mer, Torcy-Le-Petit and recapture of Gravelines. The Allies finished the op with a capture of Samer and St. Omer right at the closing bell. As was historical, the Allies were successful in pushing the Axis east and liberating 5 French towns!
We Hope everyone enjoyed the op. We intend over the coming months to do more "pre-set up" ops on the Training server!
We hereby declare Allied Forces Victorious in Operation Rapid Strike with a net capture of 5 towns.
Allied total kills: 1,661
Axis total kills: 1,389
This year we recognize and award our Top Infantry, Tanker, Bomber, Fighter, and Navy from the event.
Top players in each category will receive a custom XXL 35" x 15" desk "mouse" pad with their name and WWII Online 19th Anniversary theme print. *Please be patient, these will take some time to be printed and shipped to players*
Our runner-up players will receive our standard sized WWII Online mouse pads and are available for immediate shipment.
The following players need to contact CHIMM@CORNERDRATS.COM
no later than Friday, June 26th, 2020 to claim/coordinate their award arrangements. Player names in blue and red represent their respective ALLIED/AXIS sides.
TOP INFANTRY
barbiere 87 kills

jonas41 58 kills
TOP TANKER
XOOM 31 kills (not eligible for award)

berraco 26 kills

rans 26 kills

macalex 21 kills
TOP BOMBER
drake1 12 kills

MANDRILL 10 kills (not eligible for award)

allstar12 6 kills

kapropa 6 kills
TOP FIGHTER
panda1k 31 kills

radical 21 kills

kardehk 21 kills
TOP NAVY
kempi 61 kills

dubane 13 kills
(Yes, I caught Hell for denying the boss an award, and I'm assuming MANDRILL will charge me an "award denial fee" (inside joke) - hehe)
What an amazing event though, congratulations to everyone!
S! ~ CHIMM
P.S. - We would love to see pictures with you and your awards if you are willing to share