Hello everyone,
finally our game is available in early access on Steam, for us begins a new adventure with you!
OMG - One More Goal is an action-fighting game with soccer dynamics.
The controls are immediate, the gameplay is intuitive, the levels are always random and unpredictable.
We decided to go out in early access because we want to build the game with you players, we want to listen to and read all of your suggestions or wishes, so that we can actually create what you want and have fun there.
We really hope you like the game, a big greeting from Blue Aura Games!
Story
In a future dominated by robots, they fight to conquer the various territories.
To do this, the small robots meet in teams and try to deactivate the energy sources by touching them with special mechanical spheres.
On each territory there will be the 'guardians', an opposing team of robots who will try to defend their source (goal) at all costs!
GAME POTENTIAL
The game is designed for these great features:
- fully configurable player number
- fully configurable player characteristics (speed, responsiveness, aggressiveness, shot and pass power)
- fully configurable goalkeeper features (speed, responsiveness, aggressiveness, shot and pass power)
- infinite variety of goals
- infinite variety of balls
- infinite variety of scenarios and obstacles
- infinite variety of weapons
- large variety of game modes
- online saving of any data (players, scores, rankings and much more)
- complete liveOps online
The full version of the game will therefore contain a huge number of campaigns with many variations and will have a very competitive online component (shared rankings and statistics).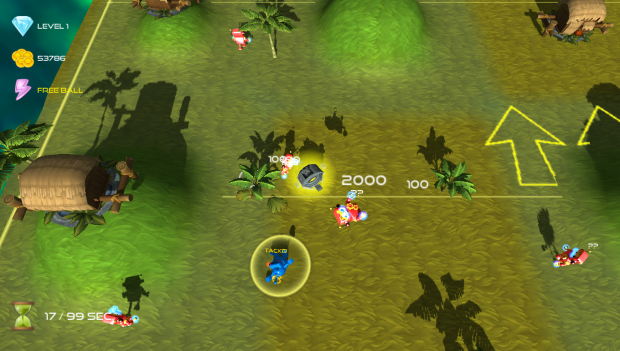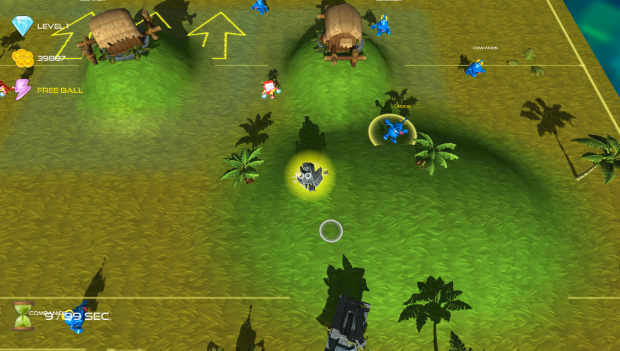 Gameplay
To win a game and pass the level you must score in the opponent's goal, the ball must touch the opponent's source of energy.
You can do this at any cost: fighting, shooting, tackling, and above all passing the ball to your teammates (team play!).
In fact, to score you have a limited time, and every time you pass the ball to your teammates you will gain time!
The controls are very intuitive, you can only play with the mouse!
The opposing goal is always upwards.
Procedural levels!
For now the levels are procedurally generated via Voxels.
This will allow for always different, unpredictable and fun game dynamics!
Even obstacles are randomly generated.
Game statistics and multiple campaigns
All game and level statistics will be stored, so that all players can compete with the online leaderboards!
In addition, the game is structured in multiple campaigns, which will vary by type of scenario, obstacles, goals, goalkeepers, ammunition and balls to play with, for a very varied and fun game experience.