"Of Guards and Thieves" Beta Update r53.4 Overview
With the arrival of the new interface were introduced several new features, let's take a look at the new class selection and 3d character model.
New in-game Class Selection menu
Now you can change class during the game (and not only from the lobby scree), you can also change your class at each respawn, to have more 'dynamism during games.
New Features:
Class 3dmodel preview
General Class Stats info
Primary weapon slot info
Secondary weapon slot info
New Class 3d model and balance
Have been updated models/equipment/stats of the first 4 classes available:
Guard Class: Assaulter
Guard Class: Scout
Thief Class: Shadow
Thief Class: Cobra
General Class Stats rebalanced
Damage and HP rebalanced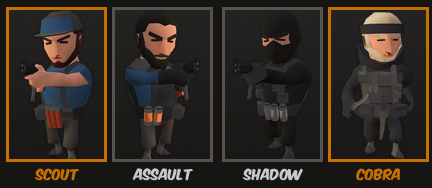 *The first four classes of OGAT"
That's all for today!
Get ready because in the next days there will be many new updates.


Download the game for windows/mac/linux here: Subvertgames.com
..or Play directly
on your web browser
on Kongregate
.
and Join our
Forum
to
take
part in the development
!
if you like the game rember to vote vote for "Indie of Year 2013"!