r49 Changelog Overview
Here the list of the major changes:
Revamped User Interface
User profiles
Team chat
Game host: force a player in a team
Game host: switch all players
Game host: lock teams
...in depth, User profiles
Now people can play as Guest, or as a registered user.Registered users have access to a user profile, which will keep track of its history.
At the moment you can look at the statistics on games won, either as thieves as guards.
But this is only the first step, in the next updates the system will be expanded and refined.
An example of what will be included? Levels, Experience point, Kill and Deaths counter, Achievement, Badge and ranks, Clan management system and other things.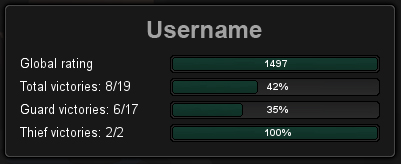 Team chat, finally!
Now you can plan your tactics talking directly with your teammates, holding out your opponents.
During the game, or in the Lobby you can chat with each other using the ENTER key, to speak only with your buddies you'll have to press the T key.
If you like the game please remember to support us on steam greenlight