Hi, I want create sandbox game about crating and testing any kind of vehicle, machines and construction ,with simple but powerful editor and enjoyed steering.
Each construction is based on nodes, its allow to total freedom with creating any shape and can be upgraded to more complex behaviour than now. I want to and another layer of connections between nodes, besides normal physics connectors will be:
- torque connectors, allow to transfer mechanical power from engine to wheels or from fan to electric generator
- electric connectors, can transfer electric powers from batterys to electric engine
- gas/liquid connectors, allow to transfer fuel, water, air or gas form tank to engine or atmosphere
Now every energy receiver, for example wheel, propeller etc. have infinity source of power, they no needed be connected to energy generator. But in next releases must be connection between, for example wheels and engine for make it driven.
Editor: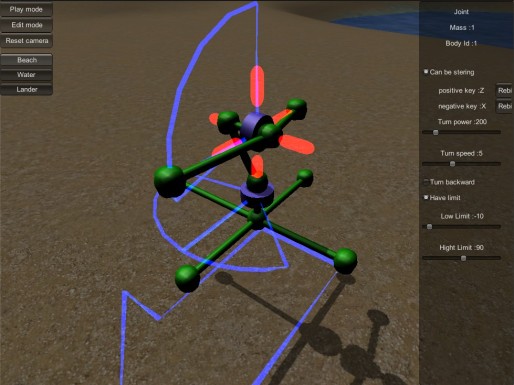 When any node was selected near it was showed red or blue tags, red when dragging allow to move and blue to rotate, change between this two modes can be done by R key.
When node is select inspector is visible on right side, in this place any of elements properties can be changes, some of elements have steering keys, here its can be rebind.
When new node was added, is in same place as selected node, but now a new node is selected. So after adding new node is recommended to move it.
Controls:
[ Edit mode ]
LMB - checking / unchecking node
RMB - camera rotation
E - add normal node
Q - remove any node
R - change between moving / rotating mode
J - add axe (joint) node, this node can be selected in two places and it divide model to two physics bodys
W - add wheel
T - add rocket engine
Y - add wing
U - add tank, used like float in water
I - add propeller or screw propeller in water
O - add balloon
P - add camera node, press '/' key to change view from this node
Shift - add connection between nodes, one node must be selected and another pointing be mouse
Ctrl - work like Shift, but remove connection
[ Play mode ]
WSAD - wheel base vehicle steering
Shift - wheels breake
Other nodes have full bingingable keys for steering.