Good morning Rhyldan community, our team would like to wish everyone a Happy Thanksgiving, and a festive start to the holiday season. To start the season of giving off properly we wanted to bring you another early update. We'll resume a normal scheduled update schedule after the new year. Today's update article is one we've all been highly anticipating. It's time to give some information about our next scheduled patch!
Progress and changes:
Over the course of the past several months, our focus has been to design and execute a suitable base from which to build the newest version of The Repopulations Tutorial area. These areas play a fundamental role in helping us progress toward the World Revamp.
0.02.29 Patch/Update time!: Players should expect to see the next patch during the month of December 2019. This patch will mark the beginning of what we refer to as Phase One. This will include our initial patch push as well as smaller live pushes during its duration. This will allow players to gain a glimpse of the content to come and begin testing again. Your feedback during this phase will be extremely valuable.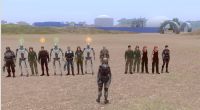 NPC's: In our previous article in November, we estimated an NPC count of two hundred or more. Currently, this benchmark has been met. Despite this being so players may find themselves feeling as though the island is underpopulated. This is largely due to the size of the island itself. Rather than a single area we now have six areas the NPC's must populate.
Players will encounter a small number of these key placeholder NPC with each nation's embassy buildings. Please be aware until systems are updated these NPC will remain purely static. Their roles will be implemented in the future, and serve as a visual cue for things to come.
---
Current Issues: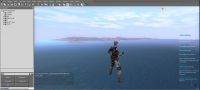 As with any project, there are ups and downs in the development process. Some of which we have had a continuous battle with since island production began. Rather than ask you to wait while we wrestle with these issues seeking perfection we have opted to move forward. What you'll experience will not be a polished and perfected area, but rather an ongoing cycle of development. From this point on you'll be with us for the good and the bad while we continue to implement changes, and push small, continuous updates.
Hitching- NPC Spec Overload: As many of you know, going into a new area or city space, you can and will encounter load hitching. One of the reasons this happens is because of how the current NPC's are done. Currently, every single spec (database type data) and animation has to load for every single NPC in the area. The animations are done using Animation Banks (a group or set of animations), however we have found that there are only a few Animation Banks that contain every animation in the game.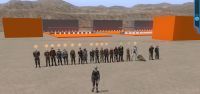 Each NPC has the full animation bank attached to them. Each modifier for a character creates a new and separate spec. In total there are 1,567 animations for the NPC FX system Most of these are in a single animation bank. Instead of glomming (http://hewiki.heroengine.com/wiki/GLOM_FAQ) on the animation banks needed for the npc, they are attached as a unique sort of spec. This means that if you have 50 NPC's and 50 Players, you are loading the "Run" animation 100 times. This is 50% of the reason why we will be redoing the NPC and player systems in the future.
Players should be aware that due to the way NPC system currently works; crossing area lines may result in a temporary stagger/lag event in much of the same way that it does now. Once all of the duplicate specs for the NPC have loaded this will correct itself. Implementing the new NPC system during the island phases will remedy some of the current issues we are facing. See current issues for more information.
Crash to Desktop (CTD): We are aware of more crashing than normal on the island. This is due to a few things, most of which we know about. A combination of the Neighbours system, number of NPC's and more being in the areas than anywhere else in the game has brought forth more crashing than normal. We see this in particular associated with area 02 (RIN region). We are guessing that along with the number of specs loading and unloading from the NPC's as well as corruption of the area due to the Neighbours system, we have found more crashing. The good news is that all data that we acquire from the testing and from players will help us narrow down the primary issue and get it fixed before the world revamp.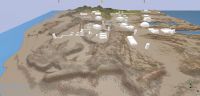 Heightmap and Terrain Overrides: To date, we've encountered a particularly inconvenient issue which results in the loss of work. To name one such revert we have witnessed the Terrain Textures and Painting reverting on several occasions. To include as recently as this past week. This is due in part to edits/overrides made to the default tools and permissions. We are currently working to sort these out, and return them to default.
Another issue of the same vein are Area Saves that should write to the areas dat file do not save correctly; data is corrupted due to script overrides currently in the game build. This is also caused by changes in several default engine scripts as well as overrides for developer permissions causing additional write/save issues. Next quarter we will be reverting these back to the engine's default scripts. Once we know this is working correctly and everything is saved without corruption, we will continue to build on top of the engine's system to customize as we need to bring you a better mini and world map.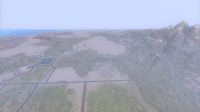 These issues flow outward to other aspects that are similar. The large map players are accustomed to using is one such bleed over. Certain overrides are in place and causing glitches. We are hopeful that we will be able to correct these before the patch. In the event that we can not you'll be informed in the next update article.
Map and Cartography: The island may not have a full large map ready for the new Island. However, we will look into other options that we might be able to use. The current system on live uses a custom system called "Neighbours" which allows the game to take a top down snapshot of the area and stitch them together into a single large map. This system also allows POI indicators of locations of NPC's, Mission POI's and other points of interest that the player may want to find or go to.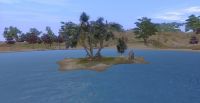 In the future, we will be using a more standard system that will utilize a more optimal setup that can be easily updated without taking days or causing overhead on Production (live).
Environment changes: Though we have created a new environment scheme and added a second one in for interiors (so it does not rain inside), there are some noticeable changes when going out of a building. The primary thing you will notice is that the sky is slightly different and clouds will change. Once we are able to revert the changes to environment and shader files we will be able to use the engines Environment blending feature. This will be much later however during the world revamp period.
---
Upcoming Update: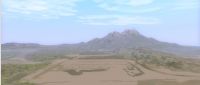 This update is pretty large. Though it may not seem so visually, we have done a lot of work
Initial Island release- what is included:
New Starter Island that includes six open world areas
Fourteen ocean/sea areas (limited access for now) to test and update for the world revamp)
New environment scheme (WIP)
New additional Interior environment scheme (WIP)
New art style for each Nation (see chart below for a short list) (134 new assets)
Optimized/remade assets (WIP) to represent the three nations (267 recreated assets)
Working doors
NPC numbering two hundred plus, including key placeholder NPC, and creatures.
NPC Spec cleanup (WIP)
Updated NPC Outfit/Visuals where corrections were needed. (WIP)
NPC will now be placed in zones designated to their training type and the nation of association. (WIP)
Mission Dialog cleanup, adjustments, and corrections (WIP)
Item system basics and cleanup (WIP)
Barca Beetles are now larger and more visible.
Players will now encounter wild Calprates, some of which are tameable.
Players will now encounter the occasional T'Seef wandering the island.
Prep work for new Container system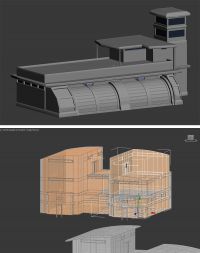 World building glimpse by area:
It is our intention to maintain a small level of surprise for the community concerning the layout of the island. To do so we have created a simplified list of assets/structures by area. Which you can find below.
The island is still under construction which means even after you've had a chance to view these areas for yourself they'll continue to grow. We hope you'll enjoy your first glimpse of Terra Corp. Island in the near future.
Below are a few of the new additions we are bringing you in the December patch. Along with the basic changes you will see, we have also eliminated some of the clutter backend by using a unified naming system for all areas.
For the Isle, we are using Strt_01 through Strt_06.
---
What might not be included:
The following is a short punch list of features that were not included in this patch. Some of which will be mentioned again on the list for next quarter.

The ability to choose one's Faction before leaving the island.

Fully implemented outdoor atmosphere items consisting of rocks, plants, and trees.
Fully implemented interior atmosphere items consisting of items such as furniture, and general decorative items.
New Container system which includes:
New inventory system
New NPC loot table
New NPC Vendor inventory
In closing: As we strive towards perfection, we understand that the wait can sometimes feel very prolonged. Which is why we are happy to bring you along on this next stage of our journey. It is our hope that together we can develop a Rhyldan we can all be proud of. Now more than ever we'll depend on your feedback to help guide us. We look forward to hearing your thoughts, and developing alongside you all.