NEXT UPDATE PREVIEW: new components system!

Hello guys!
The next update of DvDrum will be a Big Update,
We are rewriting a lot of DvDrum features to make the best drum simulator ever!
Unfortunatelly the next update require a bit of time to be released, we are working at full power, but there is much work to do!
After this update, DvDrum will be better and more reactive!

Simultaneously We are working on new DvDrum website, darktigerdevelop.com is down now.

We are currently completing the new Drumkit Components Management,
here a pic of new components adding window: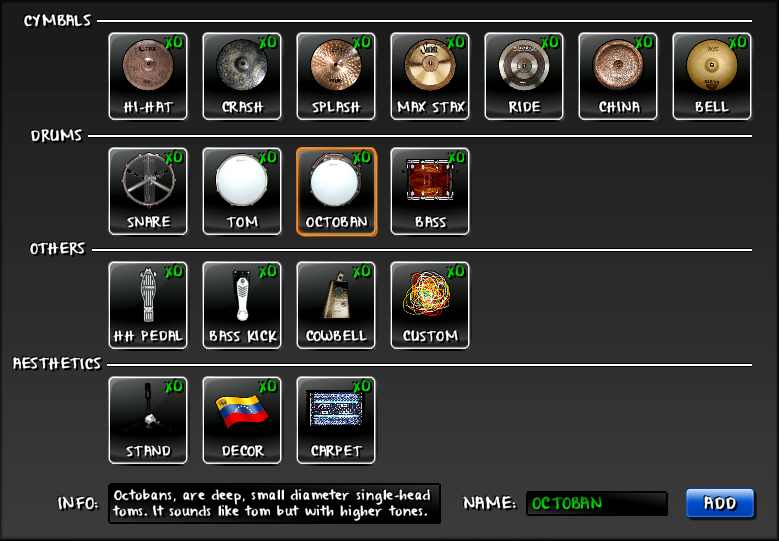 EXTREME DRUMKIT SUPPORT!
The new components system remove the limit of drumkit components number, is possible to create extreme drumkits now!
We have added type description, customizable components name and type quantity.
NEW COMPONENTS TYPE AND CUSTOM TYPE!
We have introduced new components type as "Max Stax", "Bell", "Octoban" and "Custom". The custom type allows you to create your personal componet type!
CUSTOM IMAGES SUPPORT!
DvDrum now support the customs components images, you can create your personal images!
This is the first implementation for future Workshop support.
THE NEXT STEPS
The next step is to rewrite the save/load system to support the infinite drumkits combinations, this breaks the current compatibility with custom save and load files.
After this We will working on mixer improvements and custom sounds support!
Let us know what you think, it is very important to us, Thanks!
Stay Tuned!

Have Rockin' Fun!
\m/__ (- . -) __\m/