Deutsch weiter unten, nach dem 2. Tiger II ..

<!--more-->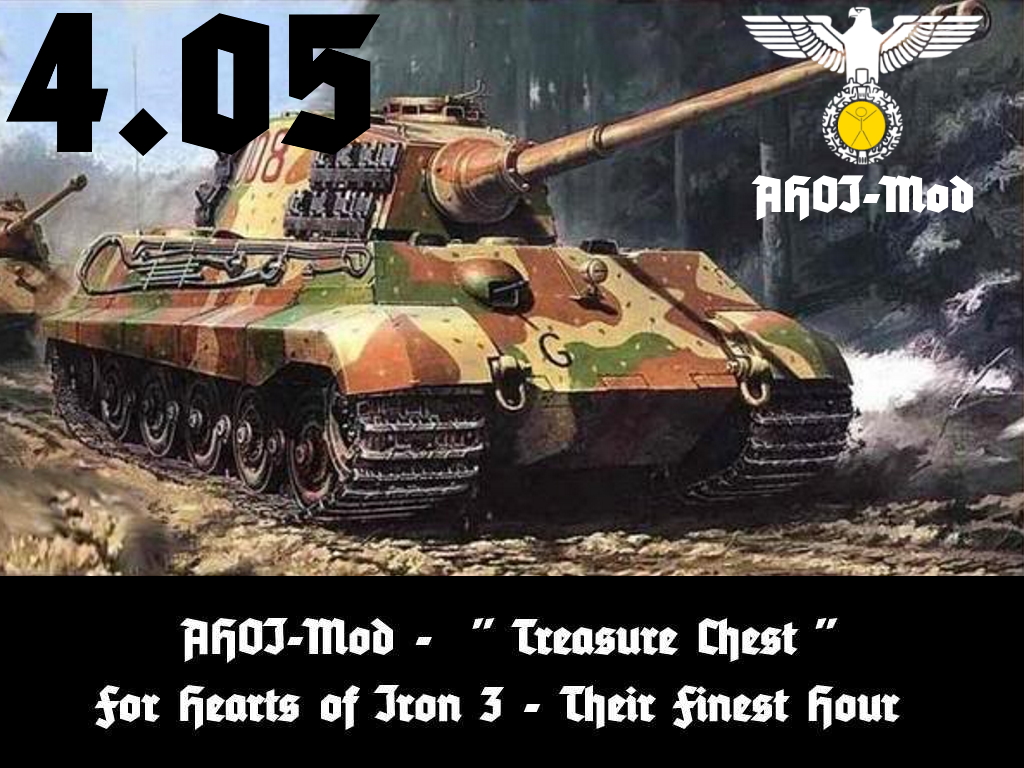 Ahoi!
It is done, the first version after ~5 years.
The newest AHOI-Mod "Treasure-Chest 4.05 reday for download:"



(Click on the wrench above for the latest version.)


The last Ahoi-Mod was the version 4.04 from Dec 22, 2015! I did work on the mod since, but didn't kept note of the many changes. Below you find at least the changes from this summer of 2020 and all that I wrote down for the previous versions.
Generally seems SOV to bee much harder to defeat. The mud-events give you 2 times a year a logistic hell and movement is slow. Also it will stall even the fastest Computers. Maybe put down game speed and hope for better weather.
Also generally I propose to save every 6 month and reload the game. Best to restart the whole game, as that seem to bring new life to the ai. Also don't forget to check the other major powers like USA/JAP/ENG/SOV/GER to see if the ai felt asleep there. Check the stance of teh Theatre HQ's, and if it is "prepare" you can wait forever for the support of e. g. the USA.. Sadly this is tied to the strategic ai and can't be modded.
The fill patchlog can be found at the download.
Feedback wanted!
I'm still just one person doing this. So you help me much with just pointing out to things you find worth mentioning.
Please help and add a note here in the forum about what you would like to do, so we don't have unnecessary double work. To have all feedback focused in one place please use this forum:
Ahoi-mod.forumotion.com
In the file "AHOI-Technology help.txt" you can read how easy itis to add new descriptions for techs and add pictures for them.
It would be nice if you can help me with the descriptions and techs for the tech-tree. Maybe you can just take a branch you like. Thats not hard work but much if I do that all alone. A little how to was done and some already helped with this. A very big thank you to all who helped me so far! Still it is much left to do. Just let me know that you like to help. You can use the forum above, or use another forum, facebook, twitter..
Have fun with the newest version of the Ahoi-Mod - Treasure Chest 4.05!
Cheers,
Chromos
Deutsch: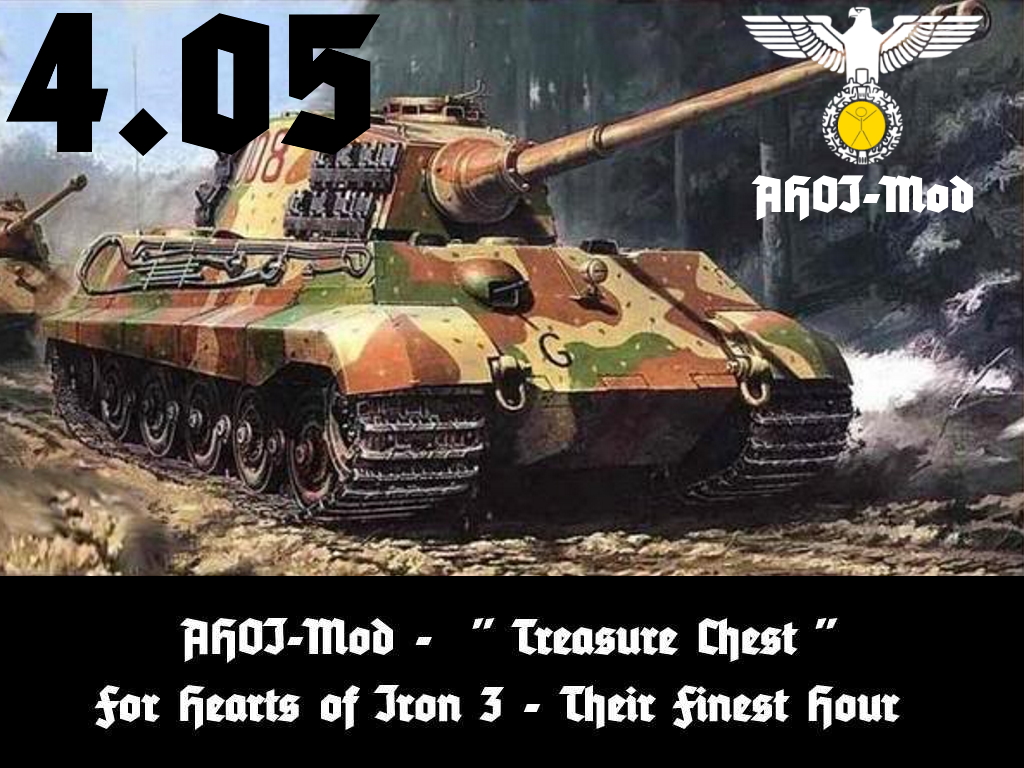 Ahoi,
es ist geschafft, die nächste Version seit gut 5 Jahren ist fertig.
Der neueste AHOI-Mod "Treasure-Chest 4.05 steht zum Download bereit:"



(Klickt auf den Schraubenschlüssel um zum Download zu kommen.)
Der letzte Ahoi-Mod hat die Version 4.04 ist vom 22. Dezember 2015! Ich habe aber seitdem immer einmal ein wenig an dem Mod gearbeitet, aber leider keine Aufzeichnung mehr über alle Änderungen die ich vorgenommen habe. Unten sind immerhin die Änderungen von der letzten Zeit aus diesem Sommer 2020, und die gesammelten bisherigen Änderungen seit der ersten Version von 2012 noch einmal unten aufgelistet. Jedenfalls die, die ich dokumentiert habe.
Allgemein scheint SOV deutlich schwerer zu erobern. Die Schlamm-Events machen einem 2x im Jahr die Logistik zur Hölle und das Bewegungstempo wird stark reduziert. Es verlangsamt aber auch die stärksten Computer! Dann lieber mit der Geschw. im Spiel runter und "durchbeissen". Generell rate ich alle 6 Monate zu speichern und neu zu laden, am Besten das ganze Spiel neu zu starten. Das scheint die KI neu zu beleben. Weiterhin sollte man auch dann vorher noch einmal die großen Akteure wie USA/JAP/ENG/SOV/GER einmal laden um zu gucken ob die KI da nicht eingeschlafen ist. Wenn die USA-Theater HQ's ab 1942 weiterhin "Aufmarsch" als Einstellung haben, dann kann man vergeblich auf Unterstützung warten! Das liegt aber an der strategischen KI die man leider nicht modden kann.
Das gesammte Patchlog kann beim Download gefunden werden.
Ich freue mich auf Rückmeldungen und Unterstützung
Ich mache das immer noch hauptsächlich allein. Wer gerne mithelfen möchte den Mod besser zu machen, oder Ideen/Anregungen hat, teilt dies bitte mit. Nur so kann der Mod besser werden.
Z. B. ist mithilfe bei den Technologiebeschreibungen und Bildern hilfreich. Evtl. kannst du ja einen Teilbereich übernehmen. Das ist nicht schwer, aber aufwendig wenn ich alles alleine machen muss. Eine kurze Anleitung wurde erstellt und einige wie haben auch schon geholfen. Einen herzlichen Dank an alle bisherigen Hilfen an dieser Stelle!
Schreib mir einfach wenn du helfen willst.
Bitte tragt im Forum ein was Ihr machen wollt damit es keiner doppelt macht. Um es übersichtlicher zu haben nutzt bitte dieses hier:
Ahoi-mod.forumotion.com Oder Du schreibst in einem anderen Forum, facebook, twitter, wo ihr eben schon unterwegs seit. :)
In der Datei "AHOI-Technologien Hilfe.txt" kann man lesen wie einfach es ist neue Technologiebeschreibungen oder Bilder einzufügen.

Ich wünsche viel Spaß mit der Version 4.05 des Ahoi-Mod - Treasure Chest!
Grüße!
Chromos