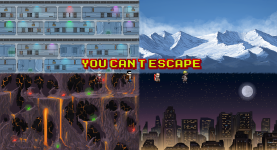 Hey guys !
As you can see on the preview image, we have some new art on the game.
We got a lot of feedback from our Alpha version, and we want to thank you all for the great and helpful feedback/ideas that you guys gave to us! It will help us definitely build a better game!
We wanted to remind you all again, the alpha version was only a prototype so we could test the mechanics, and see what we could implement to make it better. It's normal that some features were not working/buggy, and what we really wanted was your feedback and ideas!
We have implemented now some new features/fixes on our game:
Revamped backgrounds
Changed the game screen resolution
Added new characters
Tweaked abilities
Added some achievements so you can unlock them and earn special bonus
Changed some killer tiles behaviour
New main menu logo added
At the moment we're working on the game store to make it more organized and well look like a proper store! The unlimited coins were only for the alpha version so you could unlock all the content for test purposes.
We are working on GUI as well, and fix some major bugs on texts among other things.
We'll have some more news soon and thanks again for following us!
Peace !