---
This has been a long awaited update, to show off our Hall of Heroes of Varaskel.
---
The History of The Hall of Heroes:
The Hall of Heroes is an enormous mausoleum dedicated to the heroes who fought in the great war against the ogres, the war known as "First Blood".
When the Xulnari gave life to the first humans in Xulima, the humans found themselves in the middle of a vast continent dominated by their last creation, the ogre race. It did not take much time before war broke out. The ogres were numerous and fierce and soon began to decimate the humans. A mere 400 years after they first came into existence, the humans soon found themselves on the brink of extinction…
---
Read the full story about the history, the ruins, and the Twenty Heroes on our latest update.
Below is a new gameplay video we released on November 25th, 2013 of the Hall of Heroes.
---
---
We are currently offering those interested to have their names immortalized on these statues for a limited time. There are 20 statues in total, and many of them have them claimed. You can hop over to claim your name on one of these statues on our Kickstarter page.
Every statue is unique.
Lords of Xulima has been Greenlit on Steam and will be released for PC, Mac, and Linux initially.
---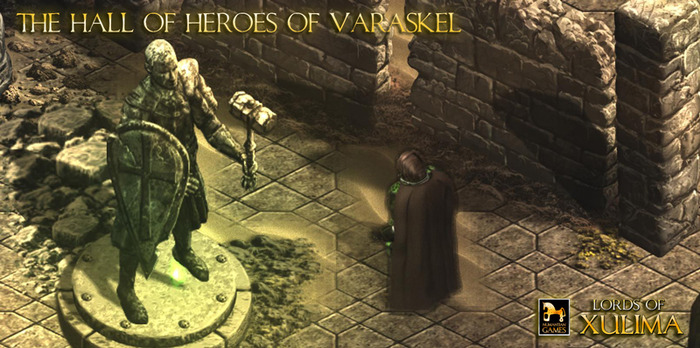 Actual in-game Image
---
---