Recently with Flash Fire the implementation of a new inventory and pick up system has allowed for more dynamic weapon swapping and choice of clothing.
The system is still in its most early stages, the system still has a lot of kinks but a new weapon system allowing for the ability to hold on primary and a secondary weapon along with swapping these with others is currently in development.
The system, uses a new GUI system which I modified to fit the game style.
Example here: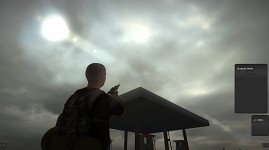 The Objects can be picked up with the mouse and then dragged from the bag inventory to the character with various slots such as a torso slot and a head slot. More will be added as the system advances.
Any ideas or tips towards this system would be great as there are still many kinks and I have still yet to style the GUI to fit the game and such.