It is an old idea by doomdragon to create some new heads for the alternative skins to give the characters a more distinctive look and to make it for you even harder to decide your favourite.
He had to push hard but all of his convincing finally worked. ENTE drew up the concepts for doomdragon to model from. As ENTE already knew he was the one which had to find a way to get the new heads skinned. But when we see the result, we know this is well worth the extra work. ;)
In total there were four new head models created for the Padman skins. Of which we would like to present "StonePad" to you today. This one is coming out of the stone age into the colorful Universe of WoP. With his unique hair style and the bone through his nose he looks really distinctively. As you might imagine, StonePad wants to show us that he has not only survived the time of the saber-toothed tigers, but can also deal with all of his enemies in our Lilliputians worlds.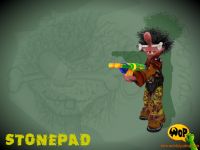 If there will be time for more of these, we do not know yet. We'd sure have some more ideas for them, but we also just have 24 hours a day.