New Environment – 20x bigger!

If your initial exposure to Landlord's Super was at Rezzed back in April, we have great news for you! The playable environment in Landlord's Super is now 20 times bigger than what was showcased back in April. Woah!

Originally, the game environment only needed to be compact to accommodate all game features. As the game has expanded significantly during the last few months, we've found the need to expand the playable space dramatically.

The April build shown at Rezzed showcased on the following:
Some basic construction gameplay at The Building Site
The Job system at The Job Centre
Skiving off in The Pub
The basics of the day to day framework in The Player Home


In the last few months, there has been a lot added to the game. To give you an idea of why the environment had to be expanded, here's a few examples of revision notes…
Added AI Houses so all AI have somewhere to sleep
Player now needs to buy their own tools & supplies at the Tool Store & Supply Store
Added The Police Station to help deal with players who steal
Player home is now a Caravan which can be relocated around the map
Added the Mitchell & Sons Building, who deal in dodgy loans and finding suitable tenants
Delivery Driver can get stuck down country lanes
Player can now Travel On Buses


And there's a lot more we're keeping close to our chest. We both really love this new environment. It's taken many, many iterations to get it feeling both fun and believable, but we think the hard work has really been worth it. Places in-game being further apart also mean we'll need to focus on getting drive-able vehicles in at some point. Toot toot!

In fact, we're so proud of all the hard work that's gone into the game world, that we've gone and got a print of it put up on the office wall, cor' blimey, that's a big of alright!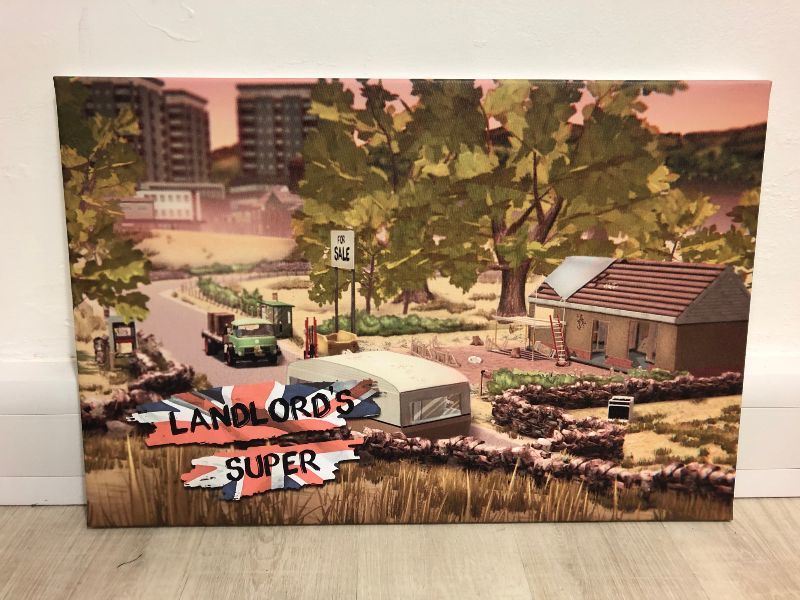 New Discord Emojis!

We've added some of the Landlord's Super characters as emojis over on the discord server! Check them out here : Discord.gg





Thanks to everyone for their continued support. We're putting our heart and soul into this project to bring you the best possible 1980s British Life & Construction Simulator money can buy.

If you haven't yet, please add the game to your wishlist! It really does help a lot.