XOOM: CRS is in the planning stages of finding out how we can handle network communication better with a dedicated focus on making game play experiences better. This would include a combination of reworking / adding code, and doing more to our infrastructure to enable best packet transmissions available. Effectively done, this would alleviate bad connection experiences more by further prioritizing the transmission of critical information (like deaths) so that lag-death can be less of a problem. Today our goal is purely to make an acknowledgment here because we know that this is important for you to hear.
---
Over the years we have tried a variety of different things, one example includes automatically despawning users who are having a bad connection issue but a more surgical approach will be required. Another example is not long ago we boosted our bandwidth cap up 10x and made our internet/intranet 1 gigabit.
While these things have helped to some degree, we channel all of our world traffic into Dallas TX. Since we have one game server setup which you know as the "Campaign experience," this makes managing this sort of traffic substantially more difficult than other games, where they can carve out 100 players to play in one dedicated area. So naturally the packet transmission by default in that regard is way faster and less management.
This is one example of the many things that CRS has to consider with our entire infrastructure in fact. We manage all of our community pages and tools, support and billing pages, and the entire WWII Online experience. When you look at it from that perspective there's a lot going on and it might help shed light that CRS is not just a game developer, it is a service provider with immense responsibilities.
18th Anniversary/Operation RAT Trap
CHIMM: Huge thanks from all of us at CRS for 18 GREAT years!
Last Thursday marked the beginning of the player events. Players assembled in Rotterdam South Airfield for the event commentary and a moment of silence in honor of those who fought and passed on during D-Day. We are always amazed and honored by our community's attendance. You, our WWII Online Community, is second to none! Thank you all.
Be fore returning to the battlefield for "Kill a RAT" festivities, kills were activated and everyone grabbed their knives for a massive enemy "carving" contest! I don't know about you all, but my fps dropped into the low teens, and was not rendering everyone lol.
Over the next several days, everyone seemed to delight in killing the RATs
Friday - All armored vehicles was unlocked
Saturday - All infantry was unlocked
Sunday - All air equipment was unlocked
Operation RAT Trap on Sunday was amazing! Huge para-drops, large armor columns, and massive town battles ensued. Allied forces took the day, but Axis forces took advantage of the "target rich" environment. Population was near even for most of the day, and was teetering on 4 AO's :-)
As promised, we have a list of the top players who will receive trophies from the anniversary events. Sorties recorded for the awards began June 6th when "Kill a RAT" was enabled, and ended on June 10th when it was turned off. Congratulations to those who made it on the list (RAT's are seeking revenge on kdped02 though hehe)!
Pictured below is a mock up of the trophies and medals that were ordered. If you see your name, please contact me at CHIMM@corneredrats.comto verify your physical address so we can mail them out when they arrive...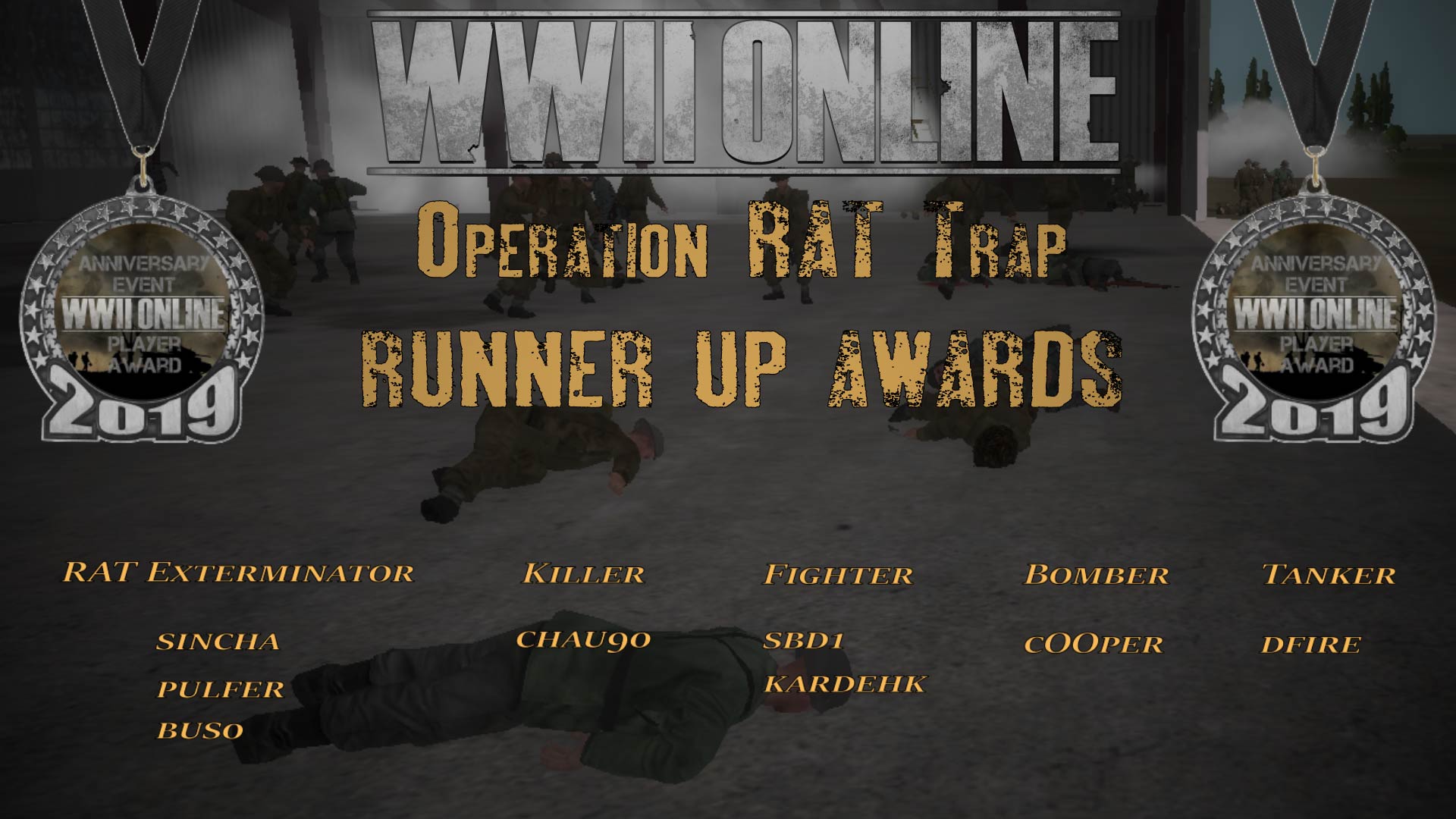 Once again, THANK YOU for an amazing 18 years!
Happy Father's Day to those celebrating
S! - CHIMM