Heres the first-ever Neofeud trailer! In addition, Neofeud is slated to be released in March of 2016. So be on the lookout!
Without spoilering everyone too much, what's pictured is essentially mostly a boss fight. The difference in Neofeud is that there are no "winners" and "losers" for the most part. In fact, the player may spend a significant portion of their time asking themselves that existential Aristotelian question -- who am I?
As is mentioned in the summary, one of the major themes of Neofeud is transhumanity -- or more particularly, what makes a person a "Person" -- someone who should "count" and have "rights", deserves food, shelter, love, justice, as opposed to being mere "property". Should a "chimera" person with 75% human and 25% dog DNA be able to vote and collect social security? Should an advanced quasi-biological cyborg health care robot be allowed to go on strike and demand a pay raise? Who gets to decide who is a sentient, valid individual, and who is just someone's pet or cog in a factory?
It's a well-worn trope of sci-fi and speculative fiction seen most recently in the excellent TV series "Humans" but is everywhere from Terminator to Frankenstein.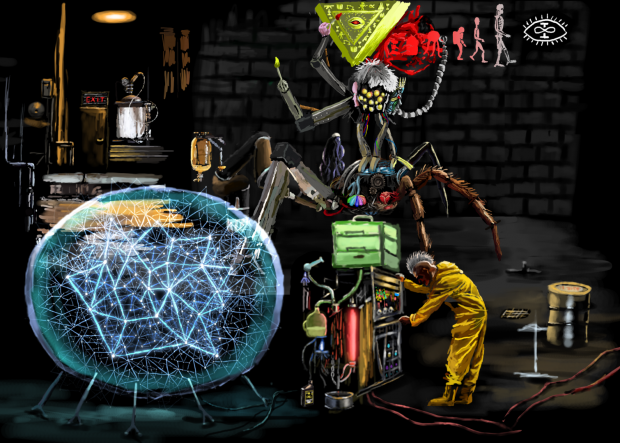 (Underground transhumans. Some Frankenstein monsters turn to art, some to drugs, some time crime.)
Neofeud looks at these issues through the Blomkampian "future-ghetto" lens of the concentration camps for alien migrants in District 9 or the dusty Mexican favela-scape of Elysium. The main character in Neofeud is a social worker "officially" trying to provide benefits to the millions of "defective" non-human sentients produced by transhumanist corporations trying to put a mind in a robot body or seeking immortality through genetic manipulation.
What Karl discovers, like many of the poor, blacks, hispanics, women, trans, or otherwise "unlucky" individuals in America', is that being made of metal or having fur, or just not being "human enough" is a license to be abused and exploited, both by individuals, corporations, and the state itself.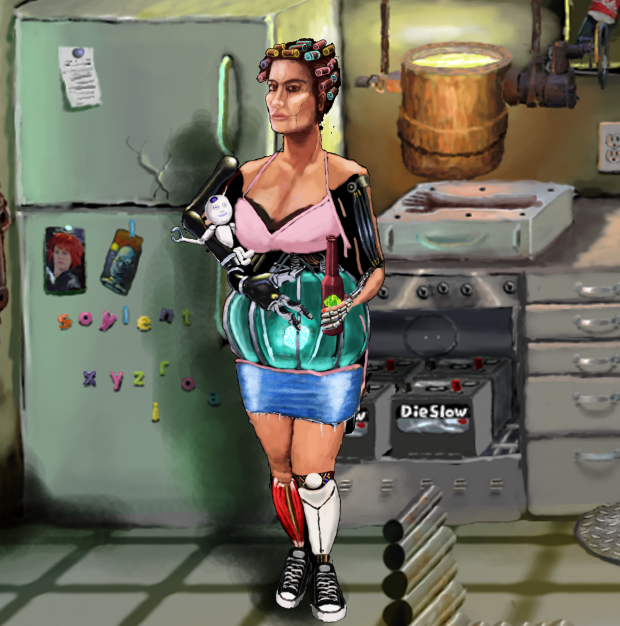 (A quasi-human single mom. Should she have her children confiscated and her benefits revoked? You get to make that moral choice.)
Along the way, Karl will need to make difficult decisions, as an agent of the corporate-state. Should he throw false drug accusations at the powerless machine-people who stand in his way? Should he give in to pressure to confiscate transgenic children if it means a pay raise for his struggling family? Just as minorities and those on the outskirts today suffer daily police brutality, gutting of benefits, have their kids legally kidnapped by the state to support the profits and bureaucracies of those in power, it is as easy as a penstroke on a government document for Karl to destroy the life of a single mom or a PTSD veteran or a disabled grandmother or a family in a not-up-to-code home.
We can barely get our act together treating *other humans* with respect, fairness, and love. How will we handle *other species* or even other forms of life, who inhabit very different bodies, but who can feel pain and suffer as much as any homo sapien? Most of us spend our time "feuding" with each other over territory, or oil, or dollar bills, or who gets the promotion, who has more followers, who gets to be famous. The more connected, the more feudal power we weild -- a relative in the industry, a friend on the police force, a father who is president, or just being born a white male, the more opportunity we have to abuse the un-titled. The unwashed paupers.
Transhumanity could be utopia, sure, but it could also be the creation of a billion new slaves. Serfs to an immortal King.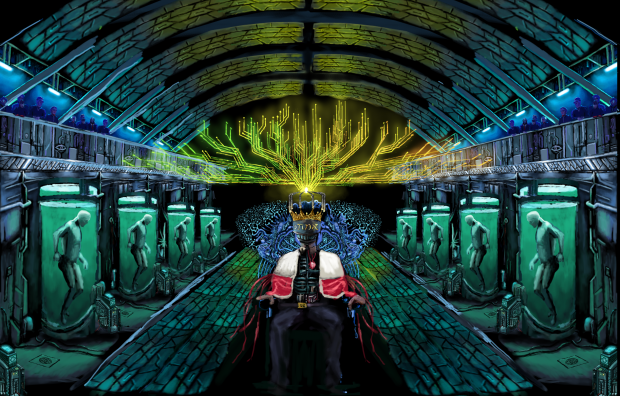 What kind of king would you be?