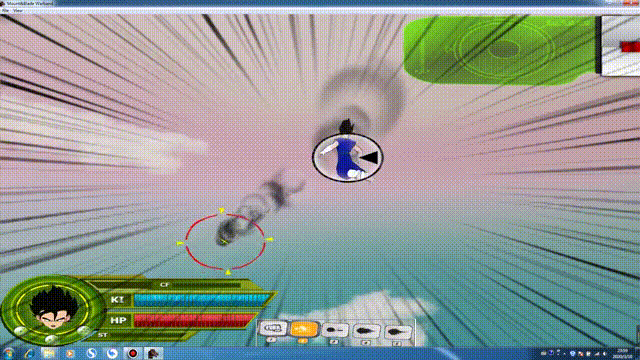 be noticed before download that the state of current demo hasn't been played as normal and you can just try its operation and look at some view of scenes.if you just want to play game, you'd better not download now this demo and just wait for future version when i tell you which can be well played.
in addition , due to little fans, so i intend not to make patch further til the openbeta,because find which file is updated after a long time is boring.
current version
demo alpha v0.462(after v0.462 version I will often use this URL by alternate new file to update .won't delete and create a new project to upload. so be care to see the latest file 's number of version changes)

mountblade dragonball z mod demo alpha v0.462 mean a just very primary demo. may have bugs and few content.Please read the article or the file description before downloading .
Demo Description:
1.map
map is primary and roughly done but will be polished up in future so don't care now ,sorry for that.
just enter the three town(and just only three in current version) to test fight.
you'd better enter scene in early morning because i haven't redo the day-night switch system and the mountblade origin day-night system is not fit with my scene.
2. some suggestions to prevent game crash from C++ error etc
(1)if your cpu is lower than 8 gb, you'd better open the file "module.in" to delete the three words below:
"load mod resource= buugohanmb
load mod resource= vegettomb
load mod resource= vegettosjmb"
this words decide whether the role has black stroke color with its main body model.
(2), you'd better not open "skill orbit show" in settings' menu(press t to call)
(3),you 'd better not to switch role by settings' menu when you are under attack now ,it may cause crash.
3.key control setting :
wasd r left-ctrl is fly or walk(switch by distance between land)
wasd r left-ctrl+v is teleport
g is lock or unlock to swoop towards enemy(enemy must be in sight)
t is some setting
z is transform
x is collect energy(when you enery is 0, you cannot use skill and swoop fly)
e is release arua
f is energy skill(current everyone only have 4 skill)
mouse roll up or down is swith to use different skills
u+f is kaioken
double wasd r left-ctrl is swoop fly and click this once in a short time is normal slow fly
y is defend
m is refresh the scene
space is force ai to use energy skill while ai can use skill itself sometimes.
if your energy ball is near enemy's energy ball, you can press u to push your ball
you must press right mouse button to fly near enemy and will trigger fight.
right mouse button+left mouse button= throw
4. role info
the current version only has three role.
one player must use vegetto
one enemy must use buugohan
you can press key"t" to open the primary setting menu to swith player's another role.
but will refresh the scene(future i will reset last state data ).
5.settings' menu
press key"T" to call, current setting is to switch hero/look all animation about current player/look different tranformation state about current player/swith mountblade style or dbz style UI/show on or off skill erergy orbit/show on or off the crosshair/switch music/console
you'd better not use orbit and console setting.
why the another player hero that can switch is Stevie:because i use this model to start game quickly for me to quickly test my function.
6.Story mode
Story mode hasn't be included in this version but will done in next version in future.
7. need your advise
if you have some suggestions, thx and XD for your comment.no matter about current demo or some future function you think is necessary .
8.FInally tell why i use mountblade mod system make this dbz mod again:
because i am both fan of mountblade and esf(a halflife very old dbz mod),
and esf has a unfinshed but a new version under development about 20 years til now ,its development history is very similar to mountblade warband and bannerlord.
bannerlord will release soon but the official esf :final is still unrelased even a demo and persevere in development from 2007 til now(its alpha version even in 1999 and before count-strike,What a great).
so i use mountblade to do a esf dbz version and continue to wait for the offical version by goldsource engine at the same time.
Finally, wish you pleasure.
------------------------------------------------------
the demo or patch after demo v0.1 's description you can see at the file description.
------------------------------------------------------
in addition:
you can change"sceneprop.txt"the vegetto/vegettosj's model name "vegetto/vegettosj" with "stf" to run better but the player role vegetto/vegettosj will be changed into stevie which comes from minecraft.
or delete "module.in"
"load mod resource= buugohanmb
load mod resource= vegettomb
load mod resource= vegettosjmb"(you can delete either or all)
but be care,don't change buugohan's model name in"sceneprop.txt",because its animation frame settings is different from vegetto/vegettosj or stevie.
-------------------------------------------------------
the game mode i primarily thought is :
may set vegeta as the main role and be similar with dbz :Kakarot.
but the fight mode i wanted is not QTE but a real physical effect fight.
The citys may be changed into the checkpoint of dbz story or some checkpoint to receive tasks or explore (means that no necessary to be its original function as a city or village).
may add starcraft's element in fight in some story such as bardock VS frezia chapter .
can destroy props even the stars.
can fight in any space without limit.
------------------------------------------------------

the story mode i primarily thought is :

For that vegeta often lose his fight when he thought with no doubt he would win and laugh at his opponent, i will set vegeta as the main role to experience the some dbz story.
if he win the fight by your operation, the CG will appear to make that he have to be lose with disappointment.
if he lose the fight by your operation, you will lose the checkpoint of story and have to restart it.
But the final checkpoint of story must be wined by vegeta and this will show the general title that vegeta makes large effort to be stronger than goku and keep his promise to defeat the final boss.He is worth the glory of the saiyan prince.