After last week's post, I was very pleased with the kind of variation in styles of speaking I was getting, but something just didn't feel quite right. It took a bit of time and quite a bit of feedback to figure out what it was, and that then triggered a second realisation about something else that needed changing, and in turn, a third. And a fourth and a fifth!
First, length and clauses. Many of these are simply too long, and there are too many additional clauses. I think the extra clauses will become just a little bit annoying after a certain point, especially if you're talking to lots of people from one civilization close together. As such, I've made some sentences shorter, and reduced the likelihood of clauses being added to sentences. This also meant a change to sentence complexity: I've decided to actually make quite a substantial change here and change sentence complexity from a value/modifier embodied in a civilization to a value embodied individually in each person you encounter. I realized that since you'll spend a decent length of time in each nation at once, you're probably going to be spending a while talking to a range of people from the same background, and so I want to boost variation between people more than I want to boost variation between civilizations. As a result, each person now has a sentence complexity modifier specific to them. This has five variations, which I'm currently just storing as 1-5; that's an x/15 chance that each sentence they say might have a clause. This means even the most wordy person will add in extra detail clauses in 1/3 sentences, but for most it will be far rarer. I've tried this out a little and I'm much happier with the kinds of sentences it produces (along with the other changes). Equally, it means that that kind of extra info will come to the player more gradually, which I think is also beneficial.
Secondly, punctuation. The end of sentences now varies according to the mood of the person speaking them; a hostile NPC will end with "." or "…" to everything they say, a neutral NPC will end with ".", whilst an NPC very positively disposed towards you will end sentences with a mix of "." and "!". Again, a very simple thing, but it's already making a big different to the ebb and flow of conversation.
Thirdly, and related to the above – formality. Many of the sentences were just too formal and rigid and didn't have the kind of flow that you would expect sentences to have. To adjust this, I've made some changes to quite a few of the sentences, added in the possibility for things like "Hmm…" to appear at the start of sentences, or things like "Let me think", or "That's hard to remember", or "I don't know much, but I'll tell you what I recall", things like that – I've also added in more use of "I'm" instead of "I am", "I've" instead of "I have", etc, and so on. The combination of these various alterations seems to be working quite nicely, and gives a far more conversational feel to the whole thing.
Fourthly, visuals. I felt that using the skin tone for the sentences on both sides of the conversation is making the actual conversation window look a bit too thick and same-y; instead, the player's comments will always be the same colour as their @ symbol, i.e. white, whilst those from other characters will change according to skin tone. This breaks up the visuals and seems to make conversations a little easier to parse, which is obviously very important!
Fifthly, stories – see below in the example for precisely what I mean by that.
As such, this is how conversations should look from this point onwards: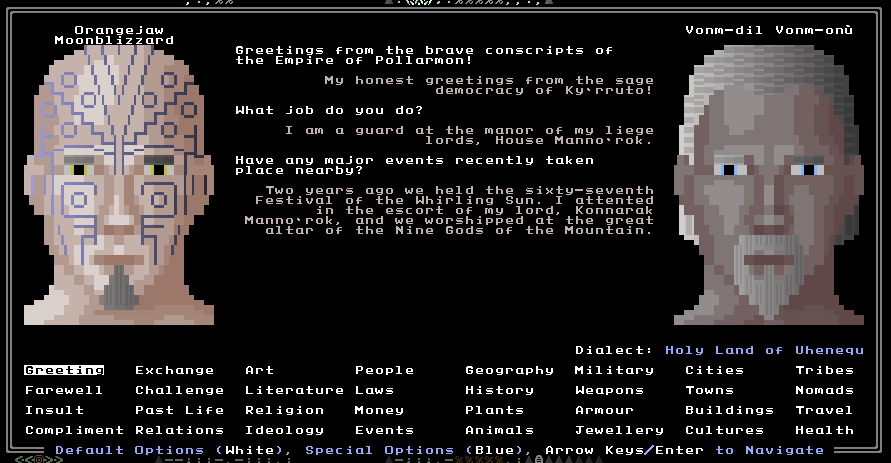 There's still a lot more to be done, of course – like adding "Hmm…" and all the other stuff described above, but I think this is a great step forward.
More next week!