UPDATE 2.0
Short trailer:
NEW FEATURES:
Multiplayer
Connect with up to 8 players and fight together or against each other.
Combat System
You can use different swords, bows and shield:
Kill players or monsters and collect points.
SWORDS deal alot of damage, but you can only use them in a short range to your enemy.
BOWS deal not so much damage, but can already damage players or monsters from really far away. Before you can shoot you need to charge the bow for 1.5sec so that it has the max. power. To aim you have to press the RIGHT MOUSE BUTTON and if you want to shoot use the LEFT MOUSE BUTTON to charge the bow.
SHIELDS can only be activated for a short time. If a player attacks you quickly press CTRL and youre shield will be activated for a half second. If the player trys to hit you in this time period you wont receive any damage and can counterattack with a strong sword hit.
POINTS can be earned by killing monsters or players. (Monsters: +10, Players: +250). Currently you can use those points to buy new clothes for your character in the character customization screen. But later we also want to add a place where you can buy crafting recipes for very powerfull Items.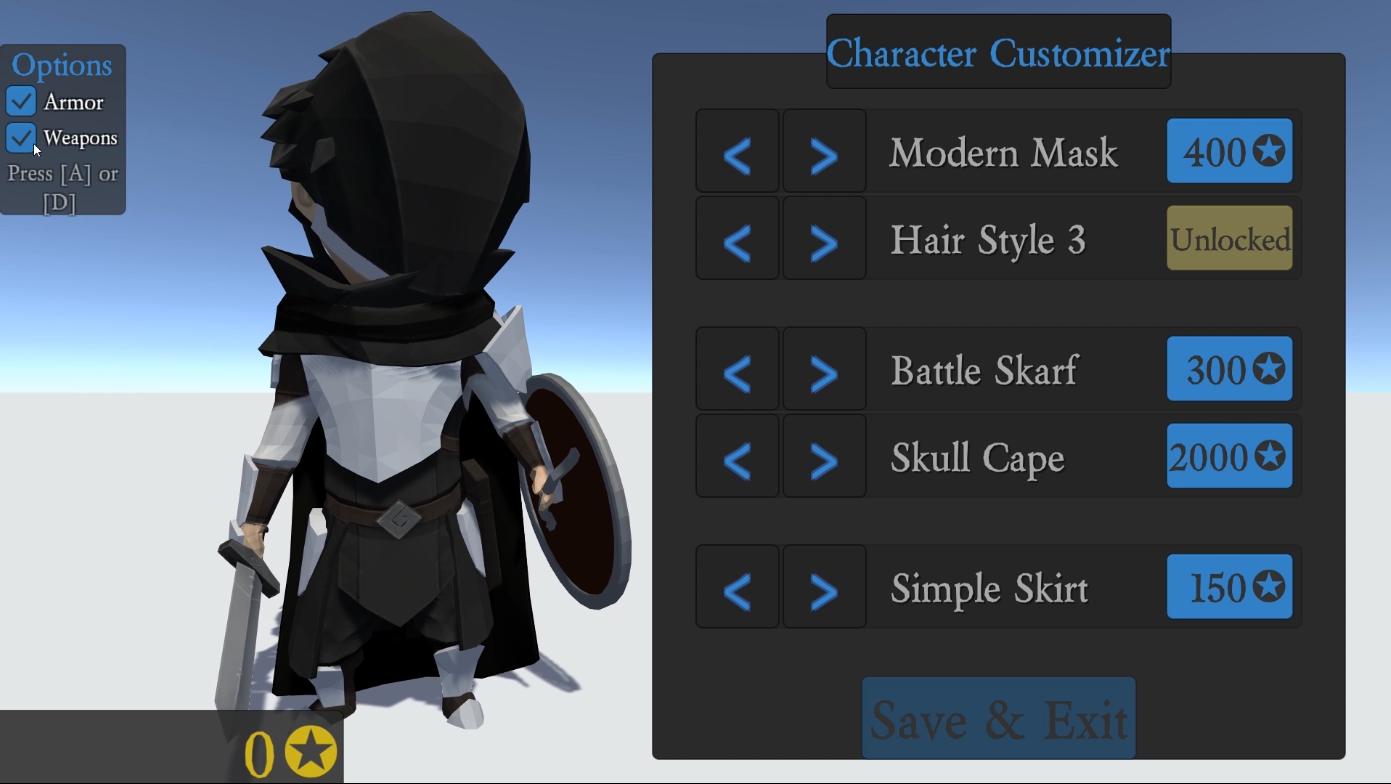 Armor

Equip Armor of 5 different types (Iron, Silver, Gold, Titanium, Dragium)
PROTECTION: When you equip more powerfull armor the protection value increases. Protection absorbs damage that you receive (DAMAGE - (DAMAGE*(PROTECTION*0.01))). For example when you have the protection 50 you absorb 50% of the damage.
EQUIPMENT SLOTS: You can equip armor to 4 different body parts. Head, Arms, Chest and Feet. The chest and arm slot often are giving the most protection.
Chests

There are hidden treasures all over the map, which can contain rare and powerful Items:
CHESTS can contain up to 5 different Items. To open a chest you have to get near them and press E. To collect the Items you simply have to press on their icon.
Chests are not placed directly onto a field. You can only find them in caves or buildings.
Crafting system

The Map is also filled with alot of recources. Collect them and craft new items.
Collect ores and craft armor:
ORES: Their are currently 5 types of ore in Morbus. Iron, silver, gold, titanium and a new red ore that we called "Dragium". Dragium is the most powerfull and rare material you currently can get in MORBUS. You can craft the best armor and weapons with it.
Collect leaves and craft potions:
LEAVES: 3 different types of bushes have been added yet. Green, red and golden. When you break them with an axe you receive leaves in the color of the bush.
GREEN LEAVES are used to craft energy potions. They refill your energy bar so you can run for longer distances.
RED LEAVES are used to craft health potions. They give you 50 health points.
GOLDEN LEAVES are used to craft strenght potions. The strenght potions is really powerfull. To craft one you need to combine green, red and golden leaves. Because only one of 20 bushes is a golden bush you have to be lucky to find one. The strenght potion refills all of your health, hunger, thirst and energy points. It also gives you the "Strenght effect" which multiplies all of your attack damage x1,5.
Monsters

They come from the sky and kill everything that gets in their way...
ENEMYS are spawning in a 30 meter radius to a player. When you come near to them (15 meter) they will chase after you. Currently each of them deal 5 damage. So one Monster shouldn't be a problem. But when they attack in groups its really hard to survive.
A new huge open world

EXPLORE 4 different bioms. Grass lands, Forest, Snow lands, and Beach. We are also working an a desert biom, which will be added in the next update.