Seeing as how development on Build 8 is well underway I figured I would post an update about some of the latest features.
What's new
As of now the major implementation is brush-based entity support, func_wall being the first. With this I have added a "Shiny texture" property which will give it a reflective property.
Here is an example of the reflective property in action: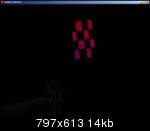 I know this may not look like much but the shot is from a quick test .map used to see if it worked. Wait til you see a full map with it, lighting and all.
Work is also being done on adding a "Bumpmap" property as well as basic render properties, such as RGB and alpha.
In addition to this engine update I have also added some basic AI framework for the game including nodes and two types of pathfinders (only one of which works right atm :p ).
What's next
Within the next week or so I would really like to get to work on fixing the lighting and shadow bugs we have that way the game will be more visually enhanced. After that I will continue work on the bloom filter that I have early stuff for.
I'm hoping to have build 8 complete and ready for the team by Dec. 1. Meaning I'm aiming for a major media release in time for Christmas. So until then just keep checking the mod profile and forums for updates.
Modern Warfare
Modern Warfare Homepage (Updated irregularly)
Modern Warfare Forums