Today we are going to talk about Mini-Bosses.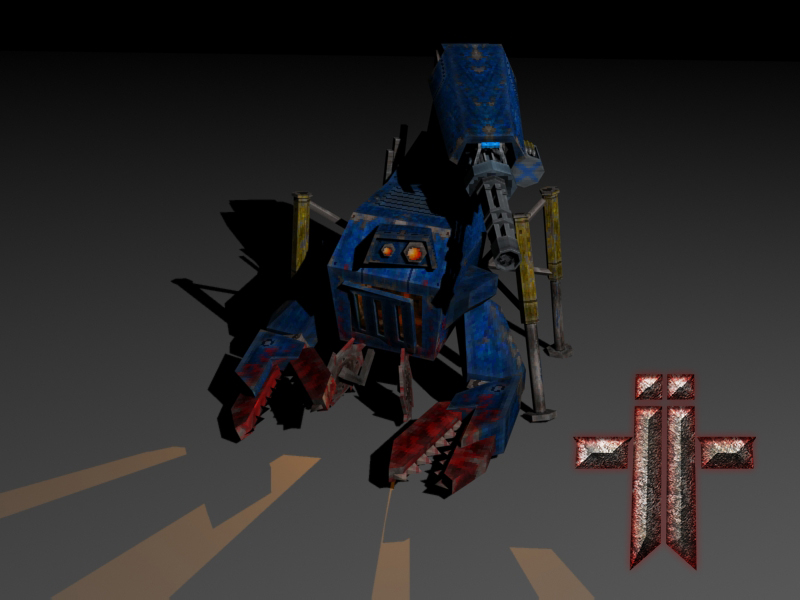 This has been an explanation regarding Mini-Bosses in Bloodcrusher II. For those of you who could not grasp the thousands of words we just unleashed with that image, lets truly get down to the basics.
As you progress through Bloodcrusher II, you encounter numerous enemies of numerous traits, such as Hooligans, Dogs, and Brains. However, these are not the only enemies that stand in your way. Every now and again (When Bloodcrusher II is feeling deviously sentient and evil), your enemies call for much more powerful dudes to stand in your way.
With that in mind, let's once again gaze in horror upon the first Mini-Boss we are revealing; The Shredder. Shredders, as I am sure you have noticed, feature a very large ranged weapon (either a Gatling Gun, as shown here, rockets, double shotguns, and other random weapons), but they don't exactly like using it. They would much rather run directly at you whilst blaring sweet guitar riffs in order for it to prepare to dismember its target with a very painful pair of sawblades.
Should you be capable of damaging the Shredder though, it may look to heal itself, likely through consuming whichever enemy drew the short straw. When fighting these ferocious beasts, be sure to pay attention to other enemies around it. After all, those are your enemies. It is your responsibility to fire angry bees at their faces, not let some overgrown robot devour them for the hitpoints.
As a closing note for today, some of you may have noticed that updates have slowed. Fear not! We have been working on internal changes as of late, so we just haven't had much to show. Expect big things within the coming weeks! Bigger than a gigantic elephant (yet smaller than a humongous elephant). To hold you over until then, we have resurrected another form of art from the 90s, the website. Be sure to give it a visit to check out sweet Gifs and subtitles for Bloodcrusher II: Barrels of Blood.