Hi guys! I'm Pixels, part of the small team at Fast Forward Games currently working on MIGHT, a team arena brawler that we will be releasing on STEAM Greenlight in the coming days.
The beta is live!
MIGHT's beta has gone live and we've already had a lot of enthusiastic testers join to try it out even though it's only been announced for three days so far. It's been a blast and we're really grateful to everyone that is signing up and providing feedback.

Here's a short video of some footage from some of the first online battles that have ever taken place in our game:
Communication & Patches
Right now our small team is working on keeping up with our communication with the community, solving some minor bugs and balance issues and also working on the matchmaking system.
All of the feedback from the community has already led to two patches that can be found on our forums in the News & Announcement section. Here are some highlights from patch 0.2.4.24 & 0.2.5.31:
Rendering performance improvements
Players now have the ability to self cast certain skills by holding the self cast key (default bound to Left Shift).
Players now have the ability to cancel most skills by pressing the cancel key (default bound to F).
Updated invite UI when in a custom game or queue group
Changed: Melee arc attacks now follow the direction of your mouse cursor until they trigger
Changed: All ranged attacks now allow for changing direction/location of spell until it's activated
Cooldowns will now reset if you are stunned or silenced before a skill activates
Updated look and feel of health bars, added sections to health bar for every 200 health a player has
Preparing for Greenlight
Thanks to the testers that are already joining us in Discord and posting feedback on our forums and queuing for games in MIGHT we've managed to already improve the game by a lot as well as gotten great video footage that we can use in our Steam Greenlight trailer.
The decision to try and be as interactive with the community as possible have already proved to be a huge help. We're already feeling confident that we can soon put MIGHT up on Greenlight and this wouldn't have gone nearly as fast without so much great feedback and interesting suggestions and ideas from our players.
Graphics
The style of MIGHT has been mostly well received so far but we're working on improving the map and making our classes more visually appealing. We've recently changed the look of our Druid class and put a nice staff in his hand and we feel it's helped a lot for his overall aesthetics.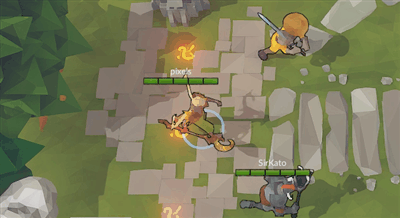 A lot of menu elements such as chat windows, friends list and game lobbies are being worked on as well and being able to test them out in real "live" situations where people are queuing and you're inviting new people into your friends list and your game lobbies have really helped us see exactly what quality of life changes needs to be made.
In our next update we might already be on Greenlight so stay tuned guys and sign up for our beta at getmight.com!
-------------------------------
Subscribe on YouTube
Follow us on Twitter
Like us on Facebook
Join the Forum
Email us at development [at] ff-games dot [com]
Chat with us on our discord server