Visit merchant tycoons profile at Indiedb.com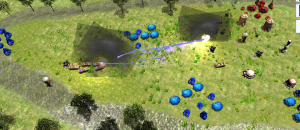 Merchant Tycoon is an entirely new concept, the idea is a realtime strategy that is meant to be played by 3 or more players at a time, which is unique for its genre and is an RTS that relies on trading and negotiation.
To get details on the give away you can visit the games website at www.merchanttycoon.com
In merchant tycoon you start off with 1 defensive building near some resources and you have to start expanding in competition with other players. Zinc, copper, and iron are spread out randomly which will cause an imbalance in supply and demand between players and you will have to use the in game marketplace to sell surplus resources and buy resources that you need to survive. Investing is also important because you need electricity for buildings, munitions for fighting, and brass for building and the infrastructure for all these factories is incredibly expensive so you need to manage production and possibly outsource some things like electricity production and just buy electricity on the marketplace instead from players that have excess electricity. This creates an environment where resources prices are constantly going up and down due to supply and demand and clever players can make money simply by flipping commodities. There is also a fully featured diplomacy system with allied victory so people skills and negotiation play a big role in the game.