When we launched Heart&Slash on consoles several weeks ago we were ready for the harsh reality of getting a game out there into the market.
While the game has been well received overall (we also got some bad reviews, we didn't expect otherwise), even those critics that liked the game pointed out some problems with the game that turned out to be far too common for us to ignore.
The main of those was the camera. Not only it's behaviour was iffy (the result of us trying to compensate too much) but also it moved really fast and lacked a sensitivity setting on consoles.
We've been working the past few weeks to fix as many bugs as possible, and now the most critical problems are fixed on both PS4 and XBOXONE.
Including the camera behaving more sensibly in corners, and a sensitivity setting with 4 different speeds: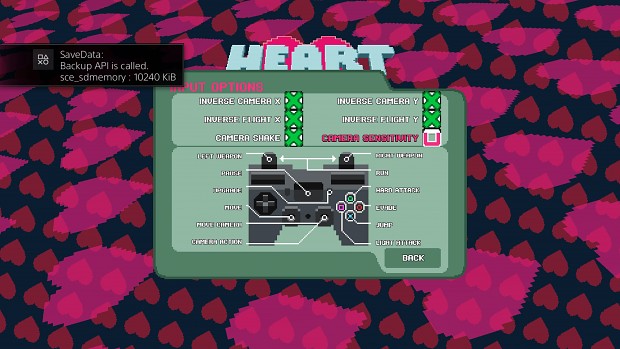 The slider graphic is temp (we plan on having a nicer horizontal one later) but for now it works.
On top of this, many bugs that slipped our QA have been addressed, and some others are identified and in the process of being fixed for the next patch. We are doing our best to improve the game as much as we can (and to get ready for our Steam launch next month!).
Coming next: an endless mode that was one of our KS stretch goals, and a big revamp of our third level (one some people have issues with we tend to agree with). The next patch is so significant in terms of content that we were planning of making that content (free) DLC, but we have decided, for everybody's convenience, just to include it as an update so nobody misses it (free DLC is not downloaded by everybody, it turns out).
Stay tuned!!!