Magicite is a 2D RPG that focuses on randomization, customization, looting, crafting, and permanent death.
Upon creating a character, players will spawn in the main town. Here they can talk to various NPCs that provide a variety of services. These NPCs include the Blacksmith, Town Mayor, and Merchant. More NPCs can be unlocked as you progress through the game, collecting items and materials to convert into resources for the town. Your town level will be persistent even upon character death, so all of your characters will be able to access these services and chests that store items from adventuring.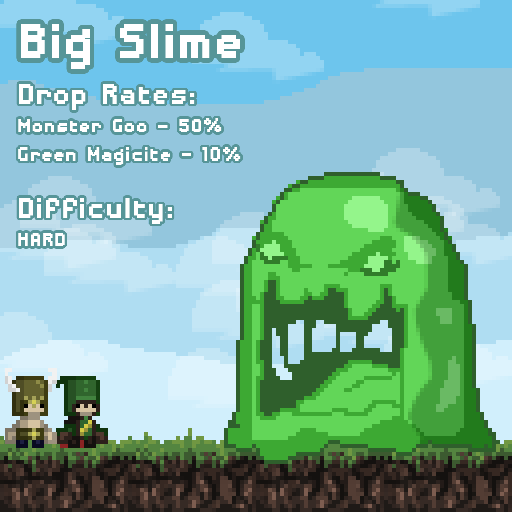 Quests can be anything from collecting materials to slaying epic beasts. Players will take their characters and hard earned gear to randomly generated levels filled with trees, veins of ore, and other interactive objects that require their respective tools. Parties may find that their town is in dire need of wood, so they could explore a randomly generated forest and cut down all of the trees. But sometimes, the town will have a much harder task for the player.
Players can redo a quest as many times as they would like to get the right drops and items from monsters, but must be careful because upon the party being defeated all characters will be dead permanently. If a player completes the quest or returns back to the town safely, party members that have been defeated will be saved.
Bosses will usually appear at the end of the level. Defeating these monsters require carefully planned out tactics and teamwork, or just a brave and talented player. Boss monsters drop items and materials that are much more rare than regular monster drops, rewarding skillful players.