Mob gangs got new look
Updated gangs: Prisoners, Punks, Diggers, Rebels, Collectors.

Also the update brings new system of characters and animation
• Armors of the same type that has different levels have different visual details now.
• All armor has a dull luster now
• Tints of all colors and tints of unique armor have changed

Crouches
The long-awaited opportunity to change the position! For 15 AP character crouches down, reducing the damaging area for 30%, crouching behind an obstacle will give you much more benefit in defense. At the same time crouching results two-time penalty to movement speed.

The new buff system in combat
If the unequal battle is outlined, the younger soldiers get health bonus (+10% per level below the average soldier in battle). Now it will be easier to defeat strong opponents and harder to overcome the weak ones. Penalties and bonuses to reward for winning the unequal battle were minimized. System works only in the arena. System is introduced as an experiment.

Avatars
The game introduces a new item - avatars. This helmet is worn like armor, but offers no protection or other bonuses. It does not wear out and is intended only to highlight your personality on par with the paints.
• In this version you can buy four helmets at Slam John Smith store. Hereinafter the range of avatars will expand. (Tell us your suggestions and we will consider them)

Special holiday avatar Santa Hat! It sold during the Christmas holidays only! Limited edition!
• In the next version avatar`s functionality will be enhanced and the also will change the picture in your profile, inventory, and other places.
• New trial premium paint Marpat Camo (in John Smith store) is introduced. It paints not with color but with protective texture.

Reworked AI system
New tactics and behavior for mobs - they are much smarter now! And also:
• It was slightly reduced the number of mobs in all the battles
• Bug with hanging mob`s move when the move time was equal zero has been fixed
• Friendly fire bug has been fixed
• Bug when mobs could run out through the ceiling has bee
• A bug that doubled the number of monsters in battle, after kicking player out of the lobby, has been fixed
• Move time limit in PvE is always 3 minutes now
• Path tracking system for people and AI was reworked
• Bug when the character noticing the enemy gets stuck on the stairs has been fixed
• Bug with enemy clutched in hone position has been fixed

Other changes
• Auto aiming into the visible part of the character was improved. If the target is behind an obstacle, the shot will focus on the visible part of the enemy. Mobs also use this technique.
• The distance at which the character moves from step to running was reduced (4m-> 2m)
• Weapons do not wear when shooting in training and dash now.
• Combat modes 2vs2vs2//2vs2vs2vs2//3vs3vs3 get extra BP now (x1.25).
• Reward and the amount of accumulated stars for some modes in PvP were changed.
• Activity of 13th and 15th level gangs was increased
• Shrubs are not a barrier for bullets and shells now.
• Frag-grenade, double grenade, stun-grenade deal less damage.
• M2 Seal Gel interrupts the corrosion effect.
• When blindness the visibility zone is displayed now.
• On the start of the battle you can vote for change of the set of maps 2 times only.

Other fixes
• Incorrect operation of mounted cameras has been fixed.
• The ability to hit through the wall has been fixed.
• Some causes of failure running battles in the searching for teammates have been fixed.
• Opportunity to get into a fight with mobs from searching has been fixed.
• Disappearance of grenade, if you throw it farther then the visibility of blinded character has been fixed.
• Incorrect display of strength, when the item had 1 unit of strength and it could not be repaired, has been fixed.
• In the repair window of NPC only white and grey is displayed now.

Maps
New PVP / PVE location - Warehouses


New PVP / PVE location - Emporium Tower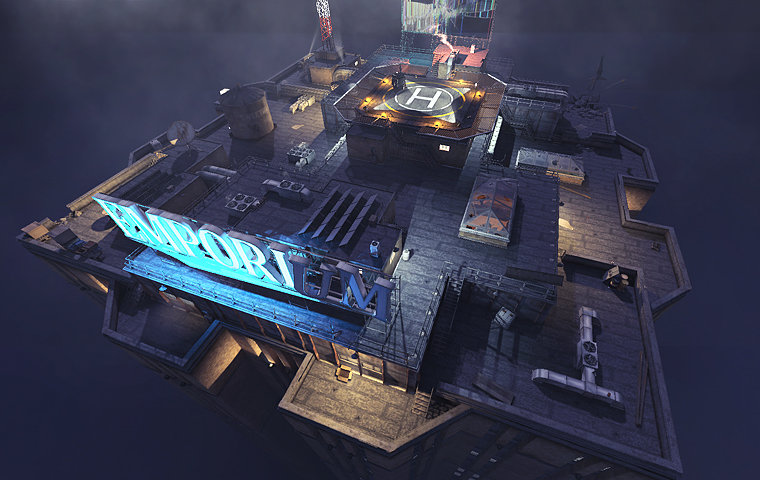 Location Containers Yard was fully reconstructed considering player feedback.


Location Rebels Post was fully reconstructed considering player feedback.