What's new in 0.15.0?
Two new single player levels: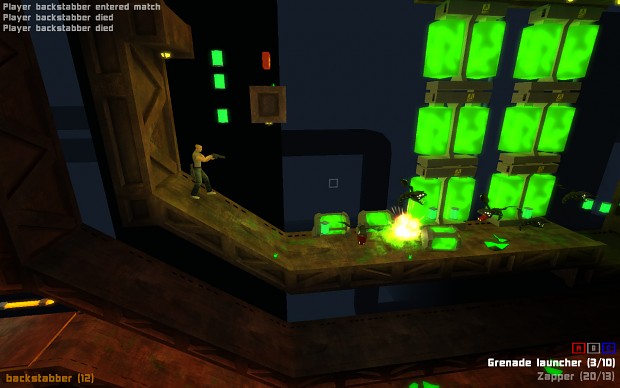 One new weapon, the zapper, and spike ball mines for the enemy: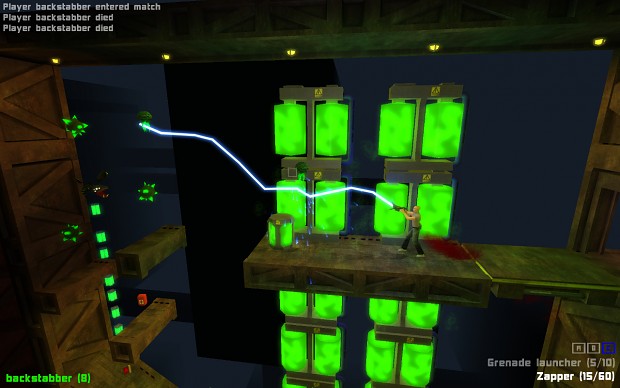 In addition to the most visible changes there are many minor graphical improvements and loads of bug fixes. A lot of work has been done on the multiplayer match listing functionality to fix some long-standing bugs. Unfortunately these changes broke backwards compatibility so online match browsing no longer works in versions older than 0.15.0.
Here's full list of changes since 0.14.0 alpha release:
Added a new enemy item called spike ball.
Added a new weapon called zapper.
Added two new single player levels.
Major update on match listing server and according changes to client side.
Fixed broken PS3 controller auto-detection.
Added level completion time and kill count to "completion screen".
Added small random variation to all looping animation speeds to make them look more natural.
Added slight animation to dragon eggs.
Added score penalty on death in single player game.
Changed the dragon egg texture to better match other enemies.
Added warning in editor when saving level with dynamic entities placed outside outer walls.
Added default renderer configuration, only show configuration dialog on request.
Disabled background music while editing levels.
Allow a bit more movement while in air to ease precision jumping.
Minor tweaks to existing levels.
Fixed broken multiplayer match player count reporting.
Fixed several potential network related dead-locks.
Fixed multiplayer match online listing when re-using match name.
Only show online matches with compatible game versions.
Tweaked human stand pose a bit to prevent feet from penetrating floor.
Fixed bug that made transparent smoke pixels block glow effect.
Added left trigger button as optional reload button on gamepad.
Fixed missing texture on grenade.
Tweaked lighting in some of the existing levels.
Hid score labels in multiplayer matches.
Fixed HUD key card indicator not showing keys on client.
Fixed random freezes in windows version when browsing online matches.
Where can I get it?
From Desura (will be updated soon):

Direct download for Windows:


Direct download for 64-bit Linux:


Direct download for 32-bit Linux:


Direct downloads on official game page:
Fractilegames.com