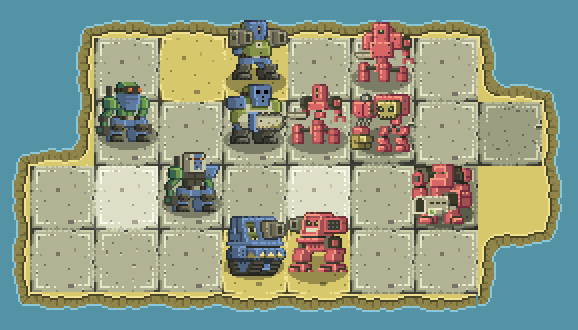 About the graphical update:
While I was neck-deep in code Thomas decided to revisit all the graphical assets for the game and boy did they change. Both factions got a huge re-skin and the terrain tiles and buildings were updated. I now play the game, almost exclusively, on the 3rd zoom level, just so I can see the little murder machines up close. All the units come in two colors, blue and pink allowing each player to play as any faction he chooses. Battles can be fought between mutants and robots, mutants and mutants, etc.
About the commanders:
As stated in the previous news post a new, big, gameplay addition were commanders. There are 8 of them in total, available for both players. 4 commanders for the Mutant Faction and 4 for the Robots, each with it's own bonuses and play style. Even better, commanders on the AI side have started to receive their own AI scripts. Thus those with bonuses to the income might prefer to spend the first 3 days conquering buildings and the following 5 chasing the player with their Mech's. Defensive commanders will prefer Tier 3 units (Attaka's or Killbots) instead of costly battle-tanks while others might take a more balanced approach. This is pretty much still work in progress but things seem to move along nicely. Have a screenshot (their portraits are placeholders. For now...):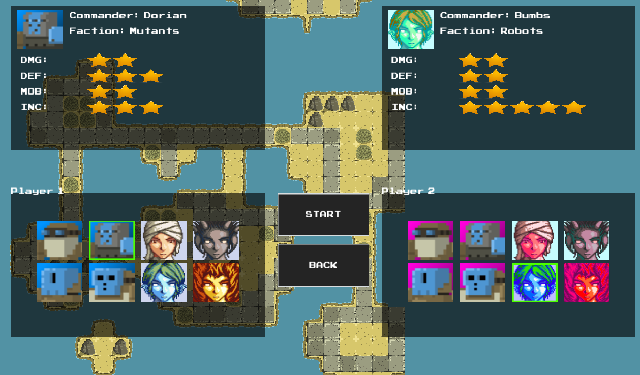 Terrain Modifiers and game modes + ui updates:
To go along with the new tile graphics I've added terrain modifiers. Each tile can boost or lower a unit's defense. Standing on plain sand will not stop a bullet but a forest might. And what about the game modes? Skirmish has finally been implemented. As opposed to the normal mode, in Skirmish you cannot build units. Both players start with a pre-defined set of units and must battle it out. The player that runs out of units at the end of the battle looses.
Now, the UI is also undergoing a few changes. Since my goal is deliver a TBS to be played in quick session I dare not have loading screens. The goal is to get you in charge as soon as possible and the new UI is being updated with this thought in mind. As with all other things, it's still a WIP and will undergo a major reskin once finished. Here's a gify gif gif:
That's about all for now, but stay tuned as more updates are to come in the following days.