First of all thanks for voting everyone!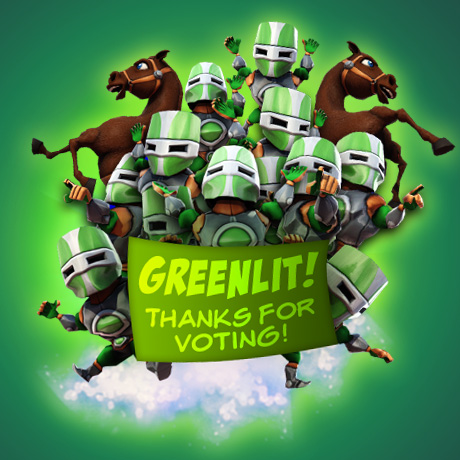 Green knights Greenlight party with green lights!
Now a poem:
It might
was not in your sight!
Last Knight
got through Greenlight
last night,
after a long fight
with the bright
it got through it tight!
Alright!
Alright!
I stick to game development, right?
Now some words from the developer about what it all means (that's me):
This is very exciting for me because Last Knight will be exposed to a much bigger crowd. As nice as Desura is by far the most digital distribution of games overall goes through Steam. This of course also means more possible income and with it I can put more time in adding cool stuff to the game while being able to pay my bills.
It of course also means that you will get Last Knight in your Steam library and that no matter where you bought it from. Once it is on Steam I will send out the Steam keys to everyone. I also like to add Steam achievements, I'm not a big fan of achievements but I know a lot of people want them. There are already unlocks in the game that can also be called "achievements", the body mutators especially. I think it will be cool to have Steam achievements with something meaning full attached to them.
It will still take some time til it gets on Steam though. Because of paperwork, steam needing to test the game etc.
I'm currently also working on a small update that I hope to release very soon. It will include some small fixes and some small surprises and there is also already more cool stuff planned, stay tuned!