This is our first image showcasing the Knight Control Store.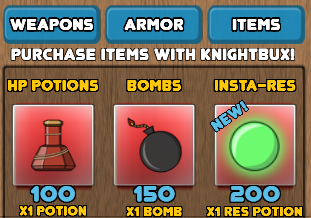 As you can see, we are going to be using a currency we have titled "Knight Bux".
This currency will be purchasable through In-App purchases, but it will also be awarded to the player for completing quests and slaying enemies.
The Art is not final, however, the showcased Items are final and will be available at launch.
We have coined Knight Control as "The casual Zelda". I do not want to take anything away from Zelda as it is a fantastic game, hence why our game is a tribute to that great creation. It has the action packed sword swinging / multiple weapon / bomb throwing action, but packed onto a mobile device with super easy touch controls to move the player around. The game can be as fast paced or as slow as you want, depending on how you maneuver around groups of enemies.
Without spilling anymore information, I would really like to know how people feel about multiple currencies. If they can be purchased and earned through the game, is that negative or positive in your eyes?
Since "Pay To Win" is highly frowned upon, yet in a single player game is that as much of an issue? Knight Control, for the time being, will launch as a single player game. We are not leaving out the possibility of it having some multiplayer functionality at this point.
We hope you are as excited about Knight Control as we are, this will be our first big epic production as a team here at Eleventh Level Interactive.
Check out Knight Control on Facebook (444 Likes!)
Knight Control Facebook Page .