Greetings, Guildmasters!
First of all, from the bottom of our hearts, we want to thank all of you who have joined our journey towards the full release of Kilta. Thank you for supporting us and, above all, giving us essential and much-needed feedback after the Early Access release. This feedback has helped us to form a picture of what the game desperately needs and what existing parts of the game still need more love. It has helped us to choose a direction, so to speak, to which we want to go from here.
Many of you have probably been waiting for an update concerning what's next on our plate. Well, wait no more because today we want to reveal our first short-term roadmap! We will publish more short-term roadmaps once we have released enough updates to the game and reached certain milestones. We call this short-term roadmap train the Living Roadmap.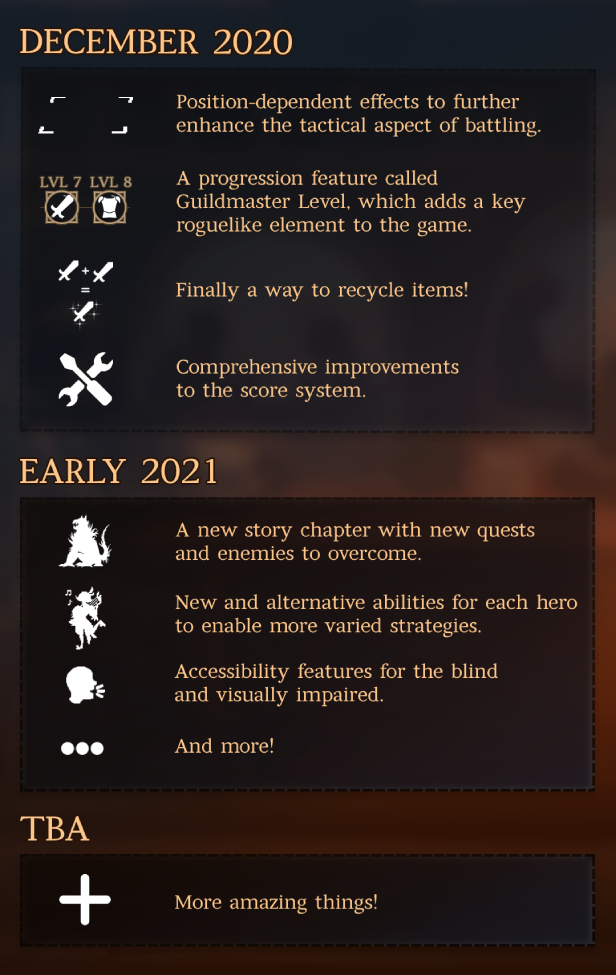 Our first short-term roadmap for Kilta. Many of the features listed in the roadmap are shortcomings or much-desired functions of which we have become aware of either through feedback or discussions inside the team.
Some of the features listed above may seem a bit vague. There is a reason for that. We don't want to simply develop a new feature of our choosing, publish it whenever it's ready, and move onto the next one. We want to get ideas and feedback on what we're doing that will, in turn, help us develop Kilta and thereby create the best possible content for the game.
Every point shown in the roadmap will be explained in more detail once we have laid some groundwork and thus ready to share more information. Especially a lot of the stuff we have planned for early 2021 will require work as well as input from the community. We definitely want to please as many supporters and community members as we can by tweaking the upcoming features to their utmost!
---
Thank you for reading! If you have any ideas you want to share, thoughts on the roadmap and/or Kilta in general, feel free to come to chat with us on our official Discord server or send us a comment here on Indie DB.