Hello everyone!
I launch my Kickstarter for my video game Pepper & Carrot : Chaosah Balls.
Here the link : Kickstarter
Pepper & Carrot : Chaosah Balls is an retro video game inspired by the classic arcade video game Pang. The game is an 2D action puzzle shooter with pixel art graphics. The game will be release in PC, Mac and Linux OS in a Steam version or in a DRM free version.
Story : Pepper is a young witch who lives with her cat Carrot in the forest. She wants to be the best witch by creating lots of potions. Her last experience about making potions failed and created dangerous balloons scaterring around the world. Taking her courage in both hands, she travels the world to destroy those she created by error.

Key features :
Easy control & arcade gameplay: everyone can play!
Great and addictive levels based on the old greatest hits.
Plays with the characters from the webcomic Pepper & Carrot!
Retro graphics like 16-bits era
There are two different modes in this game: Tour Mode and Panic Mode
Tour Mode
Pepper must finish a round-the-world quest to destroy bouncing balloons that are terrorizing several of landmarks and cities from the universe of « Pepper & Carrot » webcomic. The fight to save the Earth begins on her house in the the forest near the village of "Squirrel's End" before moving on to the next location.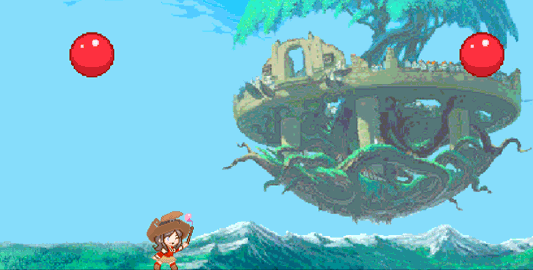 The Tour Mode has 50 levels. Every location has three stages in the same setting. One during the day, the evening and at night. Each of the stages has a set layout, consisting of walls, destructibe glass walls, invisible walls, ladders and ice. There's items such as candy and 1ups that can change the outcome of the stage.

Panic Mode
In this mode, Pepper tries to last as long as she can with an endless rain of balloons. The default weapon is the two-shot and cannot be changed at any time. Every time a balloon is popped, a rainbow bar at the bottom is slowly filled.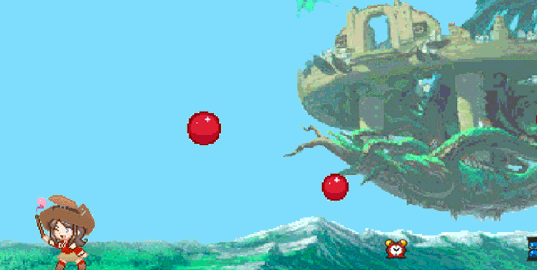 Filling the bar all the way causes the level number to rise, and the bar depletes back to zero. As more balloons are popped, the remaining and incoming balloons move faster.
Please check out our kickstarter! Share it with as many friends as you can!
Here the link : Kickstarter