Dear players,
Development is in full speed (given our free time). Although we are in the early stages, we want to share with you the planned features for the first re-launch of Kakele 2.0. Before that, we will also spawn some test servers to gather feedback and bash bugs.
Here are the features for the first release:
Client platforms:

Windows, Linux and Mac will be the official Desktop supported platforms
Mobile: Android and iOS (minimum versions still TBD)

Languages support:

The first version will have full support for English, Portuguese and Spanish

Account management in-app:

We want to remove the friction for new players as much as possible. Because of that, you will be able to create new accounts and players in-app
Players will be able to optionally 'save my login', so that they do not need to enter their email and password every time

Game-play is very similar to Kakele 1.0:

Same concepts for health, mana, exhaustion using spells and items
Backpack container that holds the player items, and items do not disappear on death
Loot box container with items dropped from slayed monsters, and players can move the loot box items to the backpack container
Same notion of equipped items increase the player status (attack, armor, magic, etc.)
Bank that works like a depot where players can stash their items and gold
The vocations are the same: warrior, mage, hunter, berserker, alchemist

Spells are mostly the same: healing spells, instant damage spells, summons, lure monsters, invisibility, mana shield, damage/heal over time, stealing of health/mana

Spells include target spells, area spells, and friendly spells
Outfits depending on vocation, level and quests

Maps:

Here is a new feature that differs from Kakele 1.0. You will start the game in a map selection menu (think Mario World). There, you will be able to navigate and 'join a map'
New maps will unlock depending on some factors: quests being completed, level, using gold coins
Maps will also have types. Initially only two: PvP and non-PvP
The first maps will allow players to get up to level 100

Quests types and rewards:

Chest quests: open a chest in the map
Tasks: defeat many monsters or collect an amount of items
General: quests where you need to chat with different NPCs and/or interact with multiple spots on the map
When the quests are finished, players will get entries in the reward box. Each entry contains a list of item choices so players can select their reward

Clans

There will be four clans
Players from the same clan cannot attack each other
You can attack other players from other clans
The exact consequences of attacking, killing or dying by PvP are still TBD
We want to encourage PvP without destroying the game play for the 'losing clans' (a.k.a. limit abuse of power)
Clan truces will be introduced (perhaps not in the first version), where the weaker clans will temporarily merge into a single clan to fight the 'leading clan'

Actions

Because we want the game to be playable on mobile (no keyboard or mouse), configurable screen icons to cast spells or use items will be added

Friends list and chat

TBD, but what we have in mind is a list where players can add friends so they can see who is online, and have local, global, private chats with ignore lists

In-game shop (still TBD)

Premium status (e.g.: allows unlocking some special maps, using special spells, premium outfits)
Clan change (limited to a certain number of times per month)
Temporary experience bonus
Reset all task quests
I know you are eager to see some progress, and not just read about the future. We will be able to come with a better estimate of when test servers will be available in the following months. Because of that, here are some screenshots of the map we have built so far with our custom mapper tool (notice that it is not how it looks in the client app):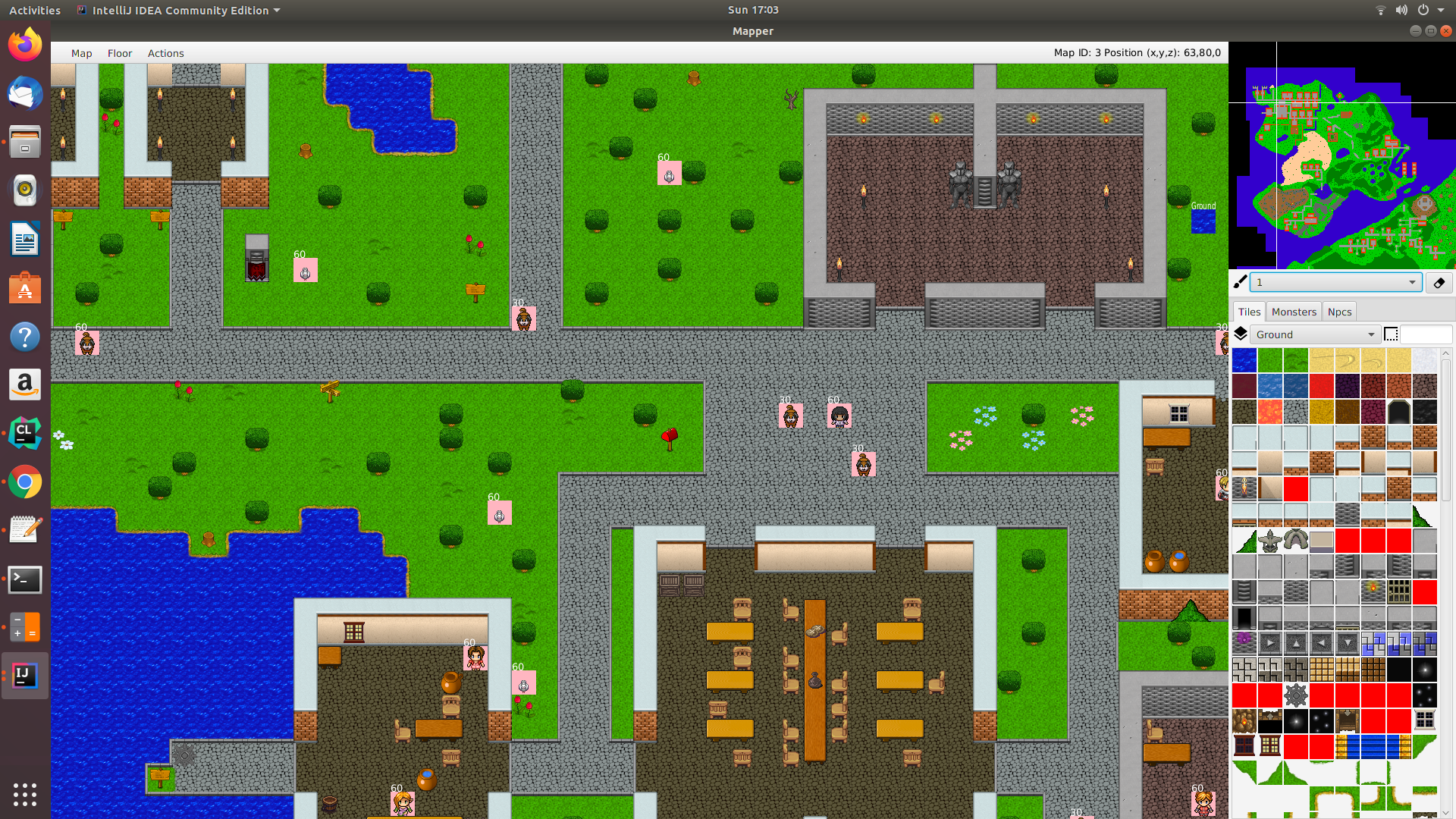 Is there any feature that we missed? Any new feature that you would love to see in the first launch? Any feature that you think is not great for the game? Let us know in the comments!
Best regards,
Bruno, Lucas & the ViVa team.