So it has been a while since I posted something new. I guess I should go ahead and say something. So I have been kinda busy with some IRL stuff. However, as you guys can see below, yet another unit has been modelled.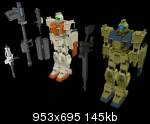 As with the zaku2/zaku1/gouf, this paves the way for the base of several models including the rx-79 and ez-8 which are next on the list of work to be done and really only represent some model changes and a few bits of new geometry here and there. Kinda cool IMO.
Anyway, just wanted to give you guys a nice update.