Hi there BattleCry supporters and fans!
Unless you've been living in a cave for the past month or so, you won't need me to tell you in an over-excited voice that BATTLEFRONT 3 IS BEING DEVELOPED!
While feelings are mixed about EA and what they'll do with the game, we'll be carrying on as normal. In order to keep things interesting, we'll be adapting our gameplay and will be freer with lore (e.g. maps will feature things you normally wouldn't expect).
And just to clear some things up, here's a tweet we made:

EA have announced they're making Battlefront 3! While this is great news, we'll be doing our best to offer something different and exciting.

- Star Wars: BattleCry (@SWBattleCry) June 10, 2013
Anyway, it's been quite a while since our last update and a lot has happened with the team and the way we are structured.
But before we begin, we must report that 3D artist Deforges, 2D artist Joshua Archer and small props modeller Defiant Sigma left the team earlier this month. They were all long time members and we wish them luck and thank them for all the work they did!
Just in case you're wondering, Deforges left because he felt that his mission to get a Battlefront 3 release was done and no longer wanted to work on the team; Josh 'left' (although he may be back!) because he will be starting Uni soon, and, strangely enough, he is busy working in Vietnam and Defiant Sigma left because she couldn't spend much time on the game.
Important announcements:
Our Web Master Mandosis has made some changes to the website. More on that later.
Thanks to a major Reddit post, we got almost 100,000 views on the website in 24 hours!
We have 2,227 likes on Facebook now, >500 followers on twitter and > 1000 trackers on moddb!
We've closed the old moddb forums and old recruitment threads on Crydev.net and moddb because we have a new new recruitment page on our site: Swbattlecry.com
We now have a Google Plus page: Plus.google.com
And a Reddit page too: Reddit.com
As usual we have some new people who have joined the team:
Camraab (environmental artist)
Praglik (environmental artist/mapper)
Ataman (coder)
DomP (3D modeller)
Chris Mathews (3D modeller)
Changes to the website this month:
As mentioned earlier our Web Master 'Mandosis' has made some changes to the website this month including adding support for pinning the site as a tile to your Start screen on Windows 8 and Windows 8.1 Preview. It works as a live tile that will let you know when there is new news about this project.
Here is the change log:
6/12/2013
Recruitment link on the navigation bar under Game. Join us! link added under the About Us link on the navigation bar
Media icon was changed
Removed poll from the front page
Removed twitter feed from the front page
Added Media to the front page
Added Donation box to the front page
Minor changes in the code
Added a new poll on the Overview page
6/13/2013
Added CAPTCHA to comments and forum posts to try and eliminate or reduce spam
6/28/2013
New measures to reduce spam
Minor upgrades
You can now pin the website to the Windows 8 and Windows 8.1 Start screen from Internet Explorer as a tile. All sizes are supported and any news from the website will be pushed to the tile
We hope you enjoy the changes. Now onto the juicy stuff you all have been waiting for!
(Sorry for not using the new design for showing off new work, we wanted to get this update out last minute, but we'll make sure that the designs are applied to these screenshots later on)
3D modeler James Thorpe has been busy making the Millennium Falcon.
Here's a WIP for you all to enjoy: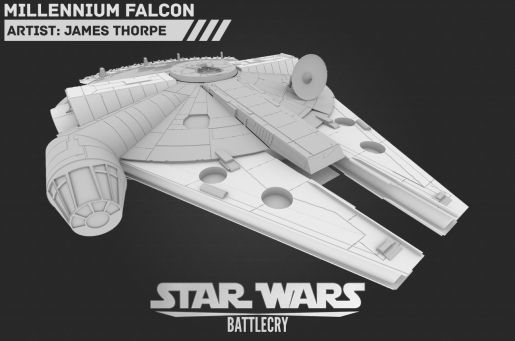 -
Deforges made us an awesome HH-15 Rocket Launcher a few weeks ago and now you can check out the gun for yourself:
Deforges also created this small but powerful/cute/awesome Scout pistol:
Just before he left he also retextured the mighty A280 rifle:
New 3D weapons modeler Varegg proved he was a worthy 'replacement' for Deforges (we use quotation marks because it's hard to replace Mr Guns) by making this beautiful DH-17 Blaster:
Last but not least on the model front (and don't forget we have more models in the pipe-line!) is this sensational (almost finished) Speederbike by new 3D modeller Chris Williams! Check it out now at this link:
As you folks want us to give you more than just screenshots of models, we thought we should show you some textures made by long time texture artist Ben2356: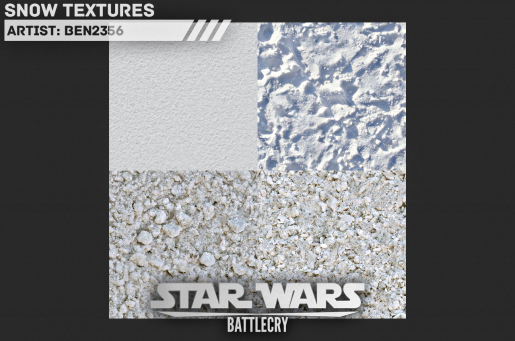 Another thing we're working on atm is a new HUD. Krym0r has been giving it a go and has made some great progress on this front. Here's one of his concepts: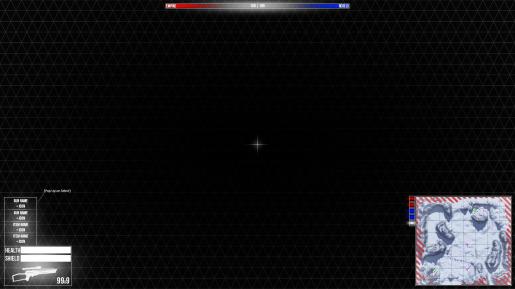 We've made huge progress on our voice overs and sound effects too and coding is as strong as ever. We'll try and get some of that stuff released, but that's it for now... I think there's enough there. :D
That's all for now folks,
The BattleCry team.