Well, hopefully that wasn't too big a waste of time. If I were to compare the old ZWC from last month with what I have now, I would say that I'm more than caught up with what I had. Of course since I was using a majority of the same assets - minus the scripts - it was a breeze.
With that comes the flow of updates once again! The next release will include everything in DBZ leading up to and ending with the Raditz fight. It isn't too far away, but I'm not confident in a release date yet, so we'll see. Hopefully it's done by the end of the year.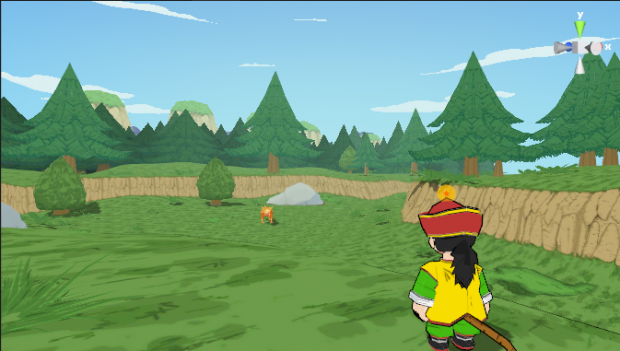 In terms of what we have now with the revised ZWC, there's loads of stuff. The big one is multiplayer. Big credit goes to the testers here - particularly SSJ6vegeta, Dokumas, Link/Bucky and Acaryus - for testing the hell out of it with me. For the most part, it works almost perfectly. It's a bit jittery in terms of movement, so I'm going to see what I can do about that, but it's way more than I ever thought would have been possible.
Originally I just imagined a 2nd Player coming in to take on an AI or two for the duration of the mission. But as the tests went on and the code became cleaner, we were doing awesome things by accident like 3-way dash struggles, or hell, even 4-way beam struggles. They'll need some tweaking to get them just right, but just the fact that it was possible put a smile on my face. The first moment I saw all of us dashing around a few weeks ago, it's just had a sweet feeling to it. Whether it's because I get to see my creation come to life or if ZWC is just straight up fun, those early testing sessions with my friends are now some of the best memories I have - sad but true.
So I'm going to keep polishing multiplayer, but I'm pushing through with the story as fast I can. I've got a certain derp-tiger modeled, if you remember him, and the Goku-Gets-Wood cutscene from before has already been remade and improved. Honestly, just a few characters and some cutscenes and we'll be pretty well good to go.
One thing I'll touch upon but not get into detail as I want to explain it more around release time is that the game definitely feels different. It's the same ZWC - combos, smashes, teleporting - but it's a little more fleshed out and less of a massive QTE. For instance, now there's dashing which can go on forever if you wish, but two people dash into each other and then shockwave exchanges take place. Or you time a block just right and teleport behind the AI and are free to do what you wish to him. There's a kidney punch which is very overpowered - gotta fix that - and speed melee is now an actual part of the gameplay instead of a tedious QTE. Good things are coming.
A last tidbit of info is that 100% of the in-game assets are now all created by me. I don't attach any pretentious nobility to this, but now if I didn't credit you last time, I can assure you that your assets are no longer in use, so there shouldn't be any issues. Except for Zielan. He gets credit for letting me use his inventory concept. Oh yeah, there's inventory and equipment too XD. Good things!