Join the Core Summer Games Jam and create a sport that is only possible in the multiverse. It can be inspired by a real-world sport or your totally new invention. Publish your game on Core before June 21st and go in the running for massive prizes across several categories!

The Summer Games Jam has five categories - Feats of Skill, 1v1 Combat, Racing, Team Sportsball, and Arenas + Stadiums. The top five entries in each category (as determined by our judges) will win prizes (the top three of each category also getting a medal in the form of a special tracksuit), and everyone that submits a valid entry will receive an exclusive Core profile picture to showcase their status in the Core community.

Feats of Skill
Create a sport that tests someone's dexterity and precision, such as gymnastics, weightlifting, archery, and discus. Primarily singleplayer. We'll be judging based on how well the activity fits the theme, and how refined the scoring is.
1v1 Combat
Spanning mecha-boxing to jetpack fencing, this category tests player reactions and strategy. Feel free to add a unique twist. We'll be judging based on the gameplay tuning, design, and aesthetic appeal.
Racing
Speed is the name of the game - compete for the fastest time in events like a wall-running obstacle course to lightspeed hurdling. Multiplayer or singleplayer both work, and we'll be judging based on both how well the racing game feels and functions.
Team Sportsball
Team sports pit groups of two or more against one another, and often feature a physics ball (or cube). We'll be judging entries on how well they capture the feel of a team sport, the multiplayer cohesion, and the scoring at the end.
Arenas + Stadiums
Create an area where all these games can live. From a soaring skyscape bristling with fireworks to a massive coliseum that acts as a hub world, the best space for these games will win. We'll be judging this category solely on aesthetic and functional appeal, not gameplay (though big bonus points for creating a grandiose event like what you'd see in a closing ceremony).
Entries in the contest will also be judged on aesthetic appeal, adherence to the theme/category, and overall polish.

Each category also encourages adding a twist based around "What is only possible in Core?" Feel free to take inspiration from fantasy games, such as Tron's disc battle, Quidditch, and countless more. Think basketball with jetpacks, skyscraper foot racing, or full contact hot potato. Check out our Creator Discord for a longer list of ideas to get your brain running, or better yet, discuss them with fellow creators!

After the jam ends, the seven-day public judging period will begin. As a way of narrowing down the top candidates, entries must have at least 10 upvotes by June 28 to make it to the next round of selective judging.

Don't forget to start with a small scope, and enjoy creating. We look forward to seeing what you dream up!

MORE WAYS TO WIN
We also have four awards, worth $500 each, independent from the main categories:
Most Innovative For the most creative entry
Most Technically Impressive For the most astounding implementation strategies
Most Aesthetic Simply the most gorgeous entry, independent of anything else
Best Newcomer Awarded to the most promising creator that is new to Core
We are also looking for polished gameplay experiences.
The three most competitively viable games (one from each category, including the arena) will win another award: an additional $500 prize and front page featuring/inclusion in the upcoming Multiverse Games Tournament! Winners will have a month to refine the game, with Manticore assisting with integrating tournament-specific logic and polish elements like a performance pass.
This tournament will drive thousands of players to your game, and being a headliner for it is an excellent way to elevate your game (and your name) in Core. The winning Arena entry (in terms of it's aesthetic appeal and usability as a hub and social space for ceremonies) will also be featured/integrated in some way during the Multiverse Games Tournament.

There will also be another set of $500 awards for the best-tuned competitive experiences:
Best Competitive Game (each category)
Best Artistic Arena
$25,000 IN PRIZING
CATEGORY WINNERS
$2000 (each)

Gold Tracksuit Character Variant
EACH CATEGORY
Second: $1000 + Silver Tracksuit Variant

Third: $600 + Bronze Tracksuit Variant

Fourth: $300

Fifth: $200

All: Contest Winner Profile Pic
AWARDS
Awards: $500 (each)

Best Competitive: $500 (each)
ALL PARTICIPANTS
FAQ / DETAILS
What is Core?
Core is a radically accessible game construction kit, community of creators, and game-playing platform, all in one. With Core, you can create multiplayer games, using the power of Unreal Engine, with no coding or art skills required. When you're ready to share your creations, publish them to the Core platform where they'll be instantly available to play. Not only is Core completely free, select creators can also monetize their games to make a living!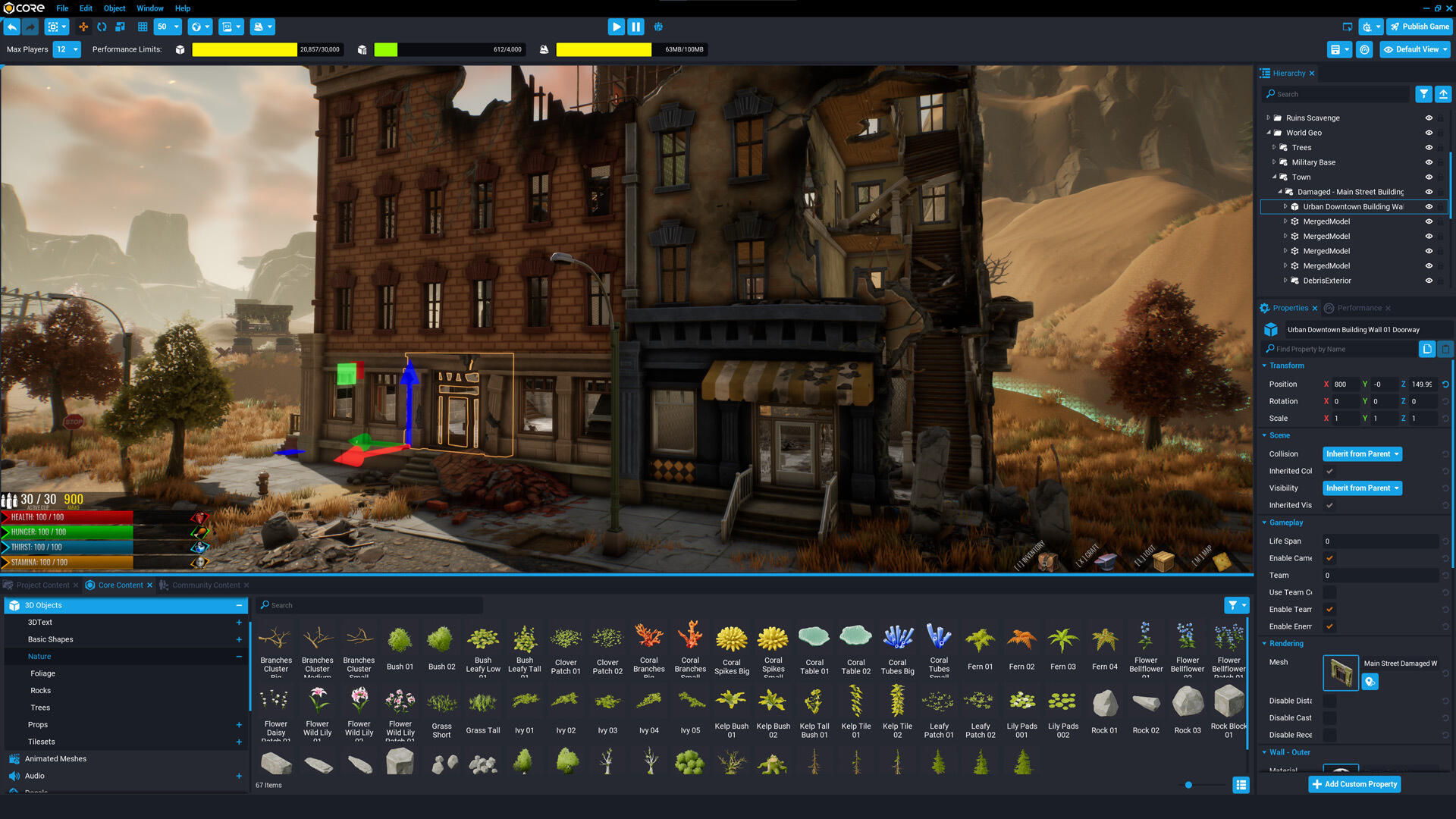 Core is like having an entire game studio in your hands. It gives you the power of Unreal Engine; lets you access hundreds of free, high quality music, sound, and art assets; and enables you to bring immersive, multiplayer worlds to life.

Simply put, we want to help you create the game of your dreams. To get started, download the client at coregames.com.
If I'm a newcomer to Core, where's the best place to start?
Check out our getting started page to quickly get up to speed and begin creating. For a more structured set of tutorials, follow along with our free courses at Core Academy.